Had "All My Children" remained on the air beyond its final September 23, 2011 episode, cast/crew and fans all around the world would have been celebrating the daytime soaps 43rd anniversary today, January 5, as the drama series debuted on this day in 1970.
Although "One Life to Live" debuted nearly two years before it, "All My Children" was actually the first soap opera created by Agnes Nixon that was geared towards the ABC Television Network's daytime audience. Initially, ABC thought the idea of "AMC" was too much for daytime television, especially with an untested series creator (Nixon), so the network asked the scribe to conceive a totally different soap opera ("OLTL"). With the success of "One Life," Nixon was given the go ahead to move forward with "All My Children," which took place in the fictional town of Pine Valley, Pennsylvania. The series debuted as a half-hour program and was owned by Nixon's Creative Horizons, Inc. before being sold to ABC outright in 1975. "AMC" was expanded to an hour long serial beginning in 1977.
"All My Children" and "One Life to Live" creator Agnes Nixon has released an official statement on the news of Prospect Park once again moving forward with plans to produce online episodes of the soaps this year. Her message was posted on her official website as well as her official Facebook page just a short time ago. The statement is as follows:
If you love your "Revenge," you will most likely also enjoy a series of "Deception." Debuting Monday, January 7 at 10:00 PM ET/9:00 PM CT on NBC, "Deception" tells the story of Vivian Bowers, a wealthy socialite and notorious party girl who appears to have died from a drug overdose. In actuality, it looks like Vivian may have been murdered. Portraying the role of the dead is former "One Life to Live" star Bree Williamson, who can be seen in the first act of the series pilot as an alive Vivian just before her death, while seen subsequently in various flashbacks and imagery.
Just about a month before announcing their decision to postpone plans to launch "All My Children" and "One Life to Live" on the web in early 2012, Prospect Park announced a partnership with Universal Music Group that would bring music, e-commerce and artist participation to new productions of "All My Children" and "One Life to Live." So now that word broke that Prospect Park is re-rebooting both soaps for the web in 2013, we felt it was a great opportunity to check on the status of this endeavor.
From "Cold Spring" to "Prosecuting Casey Anthony," former soap stars Marisa Ramirez ("General Hospital"), Sam Page ("All My Children"), Patrick Muldoon ("Days of our Lives," "Melrose Place"), Aiden Turner ("All My Children"), Elizabeth Rohm ("One Life to Live"), Sean Patrick Flannery  ("The Young and the Restless") and Scott Evans ("One Life to Live") will grace the Lifetime movie screens this month as the group of actors help tell the networks tradition of stories involving stalkings, affairs and murder.
The big news of December 2012 was word that Prospect Park was taking another stab at moving ABC's "All My Children" and "One Life to Live" to the web in 2013. The news was first reported by Deadline.com's Nellie Andreeva. In her initial reporting, Andreeva revealed that Prospect Park had made agreements with the unions SAG-AFTRA (Screen Actors Guild-American Federation of Television and Radio Artists)  and the DGA (Directors Guild of America). Previously, while the company had planned on debuting the shows on the web in early 2012, no deals had been signed with either union or the WGA (Writers Guild of America). This hindered the company's plan to move forward with the shows and resulted in a postponement that was announced in November 2011. In a statement at the time, AFTRA (prior to its merger with SAG) said that they were "deeply disappointed to read that the executives at Prospect Park have decided to suspend their efforts to produce the long-running and popular daytime serials." Additionally, the union had said that they "remain hopeful that an opportunity to revive these two popular series will emerge in the future, and remain ready to resume discussions should that opportunity arise." The future took more than a year, but it appears to have finally emerged. However, although a representative from SAG-AFTRA confirmed that an agreement with Prospect Park had been made when pressed for comment from Soap Opera Network early last week, it remains unclear if said agreement had actually been signed. "Not absolutely certain it had been signed but can check that for you," said the rep. Due to the holidays, we don't expect a response on that little detail until at least tomorrow, January 2.
Kamar de los Reyes left ABC's "One Life to Live" in 2009 after portraying the uber popular role of Antonio Vega off and on for nearly 14 years. When he joined the soap in 1995, the character was introduced as a former gang member recently released from prison after serving time for killing a man. As the eldest son of Carlotta Vega, Antonio was able to prove the crime was in fact an act of self defense with help from Nora Buchanan. In "Call of Duty: Black Ops II," which was released in November 2012, de los Reyes portrays Raul Menendez the terrorist behind a new world at war that is set in the year 2025. The game, also starring some of Hollywood's biggest stars including Sam Worthington, Michelle Rodriguez and Michael Keaton with appearances by former soap stars Eden Riegel ("All My Children") and Brianna Brown ("General Hospital"), grossed over $500 million on its first day of release. The team at Treyarch Invention made the game so real-life like that de los Reyes is now immortalized as a very recognizable video game character, despite the evil things the character induces.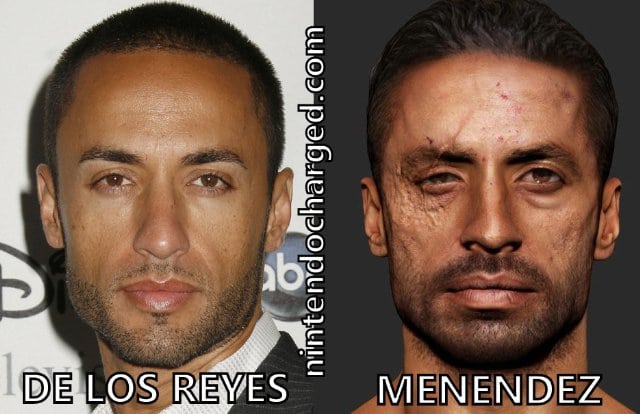 The Writers Guild of America have announced the nominations for the 2013 Writers Guild Awards.  In the Daytime Drama category, "Days Of Our Lives," "One Life To Live," and "The Young and The Restless" were nominated.  Winners will be determined on February 17, 2013.
In the latest issue of Soap Opera Digest, which just happens to be the mags annual Best & Worst issue, columnist Carolyn Hinsey ("It's Only My Opinion") shared her views of the best and worst of 2012 in the world of daytime soaps. While you can read her input by picking up your own copy, it is her statement that "OLTL will be back" that peaked our curiosity.
In Hallmark Channel's new film "Help for the Holidays," actress Summer Glau ("Terminator: The Sarah Connor Chronicles") stars as Christine, one of Santa's elves who is assigned the task of helping a little boy in Los Angeles as his family is in dire need of a wake up call. Eva La Rue ("All My Children") and Dan Gauthier ("One Life to Live") portray Sara and Scott VanCamp, the boy's mother and father, whose Christmas gift shop, Holly Daze, is booming. As a result, Will (Mason Cook, "Spy Kids: All the Time in the World") and his sister Ally (Izabela Vidovic, "Christmas Angel") are often left unsupervised, with the exception of when Sara's brother Dave (John Brotherton, "One Life to Live") is available.
Enter Santa's little helper, who interviews to be the kids' new full-time nanny, while secretly hoping to bring happiness and joy back into the holiday.