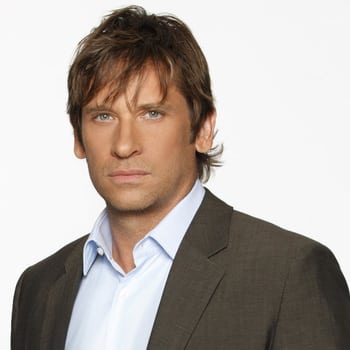 UPDATE 2:17 PM ET: Score for Laura Wright! The actress tweeted, "We are not saying goodbye to Roger, Michael and @krisalderson – just see ya in a few :))))))" and she was right! Soap Opera Network has confirmed with Roger Howarth's management that the actor is returning to "One Life to Live," but only for the first four weeks. He will begin filming in March for the Hulu/iTunes aired series before returning to "General Hospital" shortly afterward.
PREVIOUS 12:01 PM ET: Miss a day, miss a lot is the saying, but as the behind-the-scenes drama continues to unfold between ABC and Prospect Park in relation to the characters of Starr Manning, Todd Manning and John McBain and their need on either "General Hospital" or "One Life to Live," the saying has now become who's has what and how it affects daytime viewers.
In our last couple of reports, we reported a statement from ABC that said, "'General Hospital' is excited about Michael Easton, Kristen Alderson and Roger Howarth staying on the show and we are exploring ways to allow that to happen."  ABC's statement was followed up by Prospect Park's, which said, "Prospect Park understands that 'General Hospital' has featured Llanview transplants Michael Easton (John) and Kristen Alderson (Starr) among others while we arranged production of the new version of 'One Life to Live.' These characters, who we own under our agreement, are obviously essential to our production efforts, and a large reason we licensed the program. We also understand that legions of 'General Hospital' fans have grown to love these actors and characters in a short time. So even though we are paying ABC millions of dollars to license the shows, we have been, and continue to be willing to equally share the characters with 'General Hospital' and ABC. It's a win-win for the actors, the shows and fans, who love all of the shows and storylines. We hope to work out these agreements with ABC and the actors."
One actor glaringly omitted from Prospect Park's statement was Roger Howarth (Todd). Many wondered why his named was missing and so did we. Soap Opera Network has since learned the actor is leaving "General Hospital" and heading back to "One Life to Live." This despite Laura Wright (Carly Corinthos Jacks) tweeting, "We are not saying goodbye to Roger, Michael and @krisalderson – just see ya in a few :))))))," on Friday, February 8, which was the last day the soap could use the characters of Todd, Starr and John while ABC and Prospect Park continued their negotiations in regards to those characters.
There's been no definitive word yet on the status of either Alderson or Easton. Stay tuned to Soap Opera Network for updates.