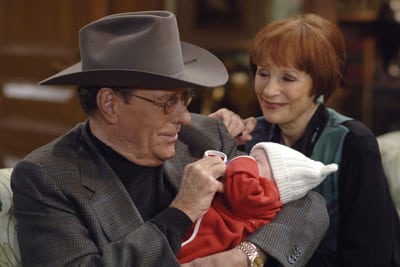 As part of his efforts to bring an oral history of "One Life to Live" to page via the upcoming book "Llanview in the Afternoon: An Oral History of 'One Life to Live,'" entertainment writer Jeff Giles has been posting numerous interviews and snippets of interviews from his time speaking with writers, producers, cast and crew members as they told of their experiences working on the ABC drama series. One such interview/story was posted earlier today on the books official Facebook page, which highlighted a moment in the life of Patricia Elliott (ex-Renee Buchanan).
"I hadn't worked in about six months, I think, and I came in to do these five or six lovely scenes with Bob Woods [Bo Buchanan] at Asa's [Phil Carey] grave. They were wonderfully written, and we had a beautiful time shooting them," says Elliott, who last appeared on the soap in August 2011. "I left and I thought, 'I don't really want any more.' I was kind of dreading being called back in for one last hurrah for some big crowd scene where Renee would have maybe one line, because I didn't want to come back again. I felt like I had been able to say goodbye in the most beautiful way."
You can read more of Giles' interviews by visiting his Facebook page.