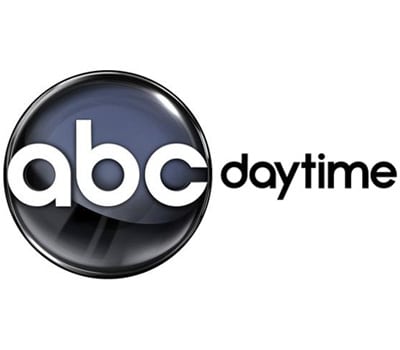 A year after canceling "All My Children" and "One Life to Live," and a year that saw millions of dissatisfied viewers tuning out of a new daytime "Revolution," Advertiser Perceptions has named ABC Daytime #1 in sales knowledge and customer service for calendar year 2012, reports AdAge.com. The website says that the network as a whole ranked first in advertiser satisfaction in the category of broadcast television. The network was the highest-rated overall media company in 2011, but has now been unseated by Google during the most recent update. Meredith Corp., publisher of Ladies' Home Journal magazine, won the coveted position in 2010.
With help from "The Voice" and the double whammy of the Super Bowl and the London Olympics, NBC ranked first in the category of brand strength amongst all broadcast television networks.
via Press Release
ADVERTISER PERCEPTIONS ANNOUNCES 2012 HIGHEST RATED MEDIA BRANDS

NEW YORK – February 1, 2013 – Every Spring and Fall, Advertiser Perceptions surveys thousands of leading advertisers — agencies and marketers — in the United States to gather their perceptions and opinions of the media brands they are considering for advertising. Through the company's Advertiser Intelligence Reports (AIR), these opinions provide the basis for insight metrics used to gauge media brand and media company performance. The media brands and companies that rank highest for each insight metric — and which possess a minimum required level of advertiser consideration based on the average of two waves of AIR — are selected as the year's Highest Rated Media Brands.

"Top media executives care deeply about what advertisers think," says Randy Cohen, President and Chief Operating Officer of Advertiser Perceptions. "They spend enormous amounts of energy, time and focus on managing how their media brands are perceived and how they go to market, all in an effort to attract and satisfy their advertisers. Therefore, there is no greater honor in the business of media, than to be recognized as a Highest Rated Media Brand."

Based on feedback from thousands of top tier advertising (marketing and agency) professionals across 16 product segments, Highest Rated Media Brand recognition is given in seven individual categories: print, broadcast TV, cable TV, digital content, digital portals and social media, mobile platforms, and digital ad networks. Within each category, individual brands are rated in four key areas: sales knowledge, customer service, brand strength and overall advertiser satisfaction.

"We congratulate this year's Highest Rated Media Brand recipients," says Ken Pearl, Chief Executive Officer of Advertiser Perceptions. "The honor represents excellence in the minds of advertisers and is a great reflection on the Highest Rated Media Brands' efforts in ensuring the highest levels of advertiser satisfaction."

The Highest Rated Media Brand insights also determine the media company that is overall best in class. For 2012, that company is Google. The online search giant has proven to be the best partner for advertising companies throughout the last year, delivering great customer service, providing advanced sales knowledge, demonstrating superior brand strength and eliciting advertiser satisfaction.

The 2012 Advertiser Perceptions Highest Rated Media Brands

Overall Highest Rated Media Company — Google

Print (110+ magazines and national newspapers measured)
Brand Strength — ESPN The Magazine
Sales Knowledge — Cooking Light
Customer Service — Martha Stewart Living
Advertiser Satisfaction — Food Network

Digital Content Sites (170+ digital content sites measured)
Brand Strength — ESPN.com
Sales Knowledge — Bloomberg.com
Customer Service — Economist.com
Advertiser Satisfaction — People.com

Digital Portals and Social Media (40+ digital portals, portal sub-brands, and social media sites measured)
Brand Strength — Facebook
Sales Knowledge — AOL
Customer Service — Yahoo!
Advertiser Satisfaction — Twitter

Digital Ad Networks (30+ digital ad networks measured)
Brand Strength — Google Display Network
Sales Knowledge — Meredith Women's Network
Customer Service — Vibrant Media
Advertiser Satisfaction — Tremor Video

Cable Television (90+ cable television networks measured)
Brand Strength — ESPN
Sales Knowledge — NFL Network
Customer Service — The Weather Channel
Advertiser Satisfaction — AMC

Broadcast Television (all broadcast networks measured)
Brand Strength — NBC
Sales Knowledge — ABC
Customer Service — ABC
Advertiser Satisfaction — ABC

Mobile (100+ mobile networks measured)
Brand Strength — Facebook
Sales Knowledge — Fandango
Customer Service — Jumptap
Advertiser Satisfaction — Millennial

What Advertisers Think

Advertiser Perceptions is the leader in providing the media industry with research-based, advertiser insight and guidance necessary for strengthening brands and increasing advertising satisfaction. For more than 10 years we have specialized in doing one thing exceptionally well… determining, analyzing and communicating what advertisers think — their plans, opinions and motivations.