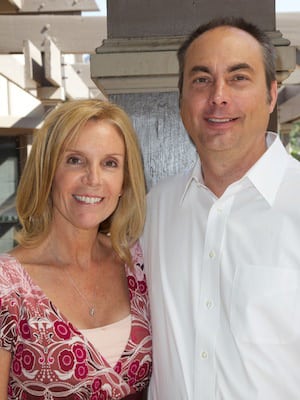 When we reported that Marlene McPherson (pictured right, with former "DAYS" co-head writer Darrell Ray Thomas) had been hired on as head writer of Prospect Park's version of "All My children" back on January 23, it was unclear at the time as to whether she would be joined by a co-head writer. Soap Opera Network has since learned that it'll be a "Days of our Lives" reunion of sorts for "AMC" as McPherson will be joined by Elizabeth Snyder, who was an Associate Head Writer at "DAYS" from 2011-2012.
Just this past weekend Snyder, and the "DAYS" team consisting of Lorraine Broderick, Carolyn Culliton, Richard Culliton, Rick Draughon, Christopher Dunn, Lacey Dyer, Janet Iacobuzio, David A. Levinson, Ryan Quan, Dave Ryan, Melissa Salmons, Roger Schroeder, Christopher J. Whitesell, and Nancy Williams Watt, lost out to CBS' "The Young and the Restless" in the category of Outstanding Achievement in Writing for a Daytime Drama Series at the "2013 Writers Guild Awards," which were held last night at the JW Marriott L.A. LIVE in Los Angeles and the B.B. King Blues Club in New York City.
Snyder's previous writing experience includes stints at "Another World," "The Bold and the Beautiful," "General Hospital," "Port Charles" and "Sunset Beach." Snyder was nominated a total of seven times for a Daytime Emmy Award from her work writing on daytime dramas. She won in 2010 for her 2009 work on "B&B" and again in 2012 for her 2011 work on "DAYS." She shared the award wins under "B&B" head writer Bradley P. Bell and "DAYS" co-head writers Whitesell, McPherson, Thomas and Dena Higley.
Production on both "All My Children" and "One Life to Live" is expected to begin on Monday, February 25. Susie Bedsow Horgan and Thom Racina are the head writers of "One Life to Live.