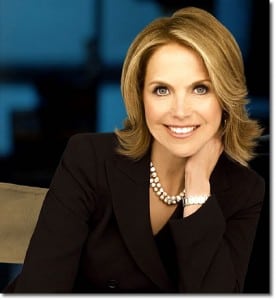 (SoapOperaNetwork.com) — Katie Couric announced last week that she would be leaving her post as anchor of the "CBS Evening News" after five years with the network. The former "Today" show co-host plans to launch a daytime talk show in the fall of 2012. Word has it that ABC is in serious discussions to bring the well known personality to the Disney/ABC Television Group fold, but what does that mean for ABC's "General Hospital" now that it's former lead-ins "All My Children" and "One Life to Live" are being replaced with "The Chew" and "The Revolution?"
Although Brian Frons, President, Daytime, Disney/ABC Television Group said "I'm not talking to her," in an interview with Deadline.com when asked if he'd consider pursuing Couric after news of the cancellations of "AMC" and "OLTL" became public, that doesn't mean ABC News President, Brian Sherwood, wasn't. According to Deadline, Sherwood has been the front man in the networks discussions with Couric's team that includes former NBC Universal President and CEO and "Today Show" executive producer, Jeff Zucker, and Ed Wilson, President, Tribune Broadcasting. Reportedly, any show distributed by Disney/ABC with Katie Couric would be syndicated around the country and wouldn't necessarily air on ABC. That doesn't mean it won't happen, however. Deadline speculates that should the prospective show be syndicated, but air on the majority of ABC stations, the network would be forced to move "General Hospital" out of its protected 3:00 PM ET/2:00 PM PT slot in order to get the lucrative space from its ABC affiliates. The move wouldn't necessarily mean the demise of the ABC Daytime staple.
DEADLINE.COM:
ABC will probably have to give an hour of daytime programming back to the affiliates and that would likely be the 3 PM slot currently occupied by General Hospital though it doesn't necessarily mean that the sole soap on ABC's daytime schedule will be canceled as it may be moved to an early time period. The Chew and The Revolution are set to take over the 1 PM and 2 PM slots in the fall and in January but the odds are they won't both succeed, leading to a vacancy.
What about CBS? Why can't Couric just stay there? While a 30-day matching window began today, TMZ is reporting that all talks with the network and Couric's team have ceased as of yesterday after both sides were unable to come to terms where Couric would remain a prominent presence within CBS News. CBS was only willing to give her face time on "60 Minutes," while Couric wanted more.
Stay tuned to Soap Opera Network as this story continues to unfold!