As The World Turns

ALL THINGS RELATED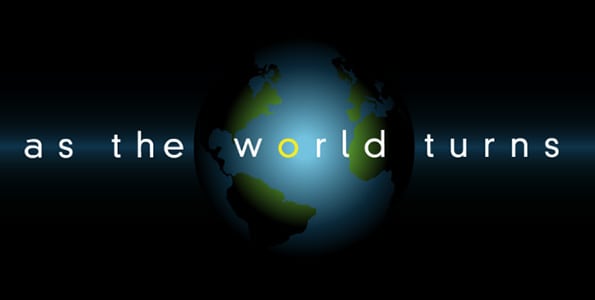 Aired on CBS
Friday, November 23, 2012 11:55 PM EDT
Emily Squires, who was nominated for fifteen Daytime Entertainment Emmy Awards throughout her career based on her work on "As The World Turns," "Guiding Light," "Sesame Street" and "Between the Lions," passed on Wednesday, November 21 at New York's Mount Sinai Hospital. She was 71 years old.
Friday, November 23, 2012 7:35 PM EDT
Although CBS canceled "Made in Jersey" in early October due to low ratings, the network has since decided to air two unaired episodes of the series beginning with tomorrow's episode entitled "Camelot," which follows series stars Janet Montgomery and Kristoffer Polaha as they represent a wealthy woman acting as a surrogate to her comatose sister. After learning the facts of the case, Martina (Montgomery) begins to suspect the husband may be up to no good.
Friday, November 16, 2012 3:03 PM EDT
"I wish she'd tell me what she was thinking" are the first spoken words in the teaser trailer for the upcoming  film "On Air" by Paos Revolution, a new production company formed by
Jordi Vilasuso
("All My Children," "Guidiing Light") and acting coaches from "AMC" and "General Hospital." The film will tell the fictionalized story of life after a popular soap opera gets canceled and how the stars of the program are forced to move on.
Saturday, August 25, 2012 6:37 PM EDT
Soap Opera Network wishes "The Young and the Restless" star Christian LeBlanc (Michael Baldwin) a very happy birthday as the three time Daytime Emmy Award winner for Outstanding Lead Actor in a Drama Series (2005, 2007, 2009) turns 54 years-old today.
Monday, August 20, 2012 2:35 PM EDT
On Saturday, August 18, We Love Soaps Editorial Director Roger Newcomb married Feature Editor in front of the famous Red TKTS Steps in Times Square. The wedding was officiated by Colleen Zenk (ex-Barbara Ryan, "As The World Turns").
Wednesday, August 15, 2012 7:59 AM EDT
On Tuesday, August 14, Jon Hensley (ex-Holden Snyder, "As The World Turns") tweeted, "Hi All, B&B has invited me back for a few more episodes, i shoot them next week! No details yet!"
Thursday, August 2, 2012 4:09 PM EDT
Walking in on your beau bedding your best friend... Halting your wedding because your evil twin stole your spot at the altar... Discovering that your mortal enemy is really your long-lost sibling. These may seem like the plotlines of a delicious daytime soap, but sensational stories are anything but fiction on Investigation Discovery. Dishing out the drama of blindsided betrayals, mistaken identities, and deadly deceptions, ID is staking its claim on real-life soap operas with the launch of daytime programming block DAYS OF OUR KNIVES on Monday, August 20 from 1-4 PM E/P.
Friday, April 6, 2012 1:40 PM EDT
With news of Gary Tomlin and Christopher Whitesell's ascension to the top of the "Days of our Lives" writing team after the NBC daytime soap let go Marlene McPherson and Darrell Ray Thomas, Jr., less than a year after the two were hired to replace Dena Higley, Soap Opera Digest in its newest issue (issue dated April 16, 2012) is reporting that Tomlin and Whitesell has added the multiple Emmy award winning talents of veteran writer Lorraine Broderick to its new regime.
Wednesday, April 4, 2012 12:51 PM EDT
Soap Opera Network has learned that Marlene McPherson and Darrell Ray Thomas, Jr. were fired and replaced by Gary Tomlin and Christopher Whitesell.
Friday, March 23, 2012 6:31 PM EDT
Although the likelihood was expected thanks to the loss of long-time soaps "All My Children" and "One Life to Live" in 2011 and 2012, which were preceded by the departures of "Guiding Light" and "As The World Turns" in 2009 and 2010, news broke on Thursday, March 22 that after 22 years in publication Soap Opera Weekly would end its successful run as one of the premier soap opera magazines. The final decision to end the mag was just one of many blows the soap opera industry has felt in as many years. Soap Opera Network takes a by the numbers look at Weekly and how its readership levels helped lead to its ultimate demise.
Friday, January 20, 2012 6:51 PM EDT
Here is a comparison of the last five cancelled soap operas.
Saturday, November 12, 2011 2:39 AM EDT
"One Life to Live" is forced to recast the character of Cole Thornhart, who is serving a prison sentence for murdering Eli Clarke (Matt Walton) with Broadway star Van Hughes only one day after Brandon Buddy returned to the role.
Sunday, October 30, 2011 1:34 PM EDT
Daytime Stars and Stripes 2011 held on Sunday, October 9, 2011.