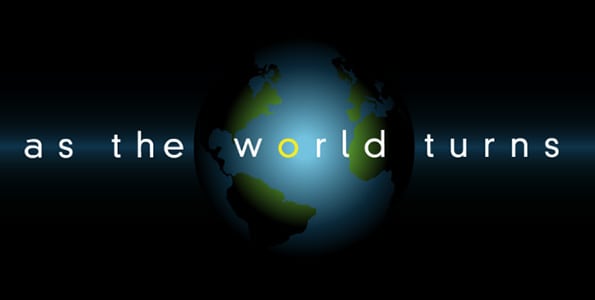 Aired on CBS
"As the World Turns'" alums Scott DeFreitas (ex-Andy Dixon) and Maura West (ex-Carly Tenney; Ava Jerome, "General Hospital;" ex-Diane Jenkins, "The Young and the Restless") have been in the spotlight for years, and their son, Joe West, seems to be following in his parent's footsteps!
The web series "Tainted Dreams" already has a long list of soap star talent, and now one more has been added to the roster: "Guiding Light" alum Grant Aleksander (ex-Phillip Spaulding)! The Maryland native, who also played "All My Children's" Alec McIntyre, has signed on to play Adam Clark, the executive producer of "Painted Dreams," the fictional show within the series.
While Billy Magnussen (ex-Casey Hughes, "As The World Turns") did not win Best Performance by an Actor in a Featured Role in a Play for his performance as Spike in "Vanya and Sonia and Masha and Spike," the play itself did win in the category of Best Play. Written by Christopher Durang, "Vanya and Sonia and Masha and Spike" tells the story of Vanya (David Hyde Piece, "Frasier") and Sonia (Kristine Nielsen,"Political Animals") and Masha (Sigourney Weaver, "Political Animals") and Spike (Magnussen), who together turn a generally quiet household into a standing circus full of intrigue and super fun.
"I don't expect to get it. They usually don't give it to you two years in a row. So for me the real thing is to have been nominated and to have been acknowledged in this way, which is really an acknowledgment of this extraordinary play by Richard Greenberg. This brilliant direction by Lynne Medow and this cast, which is my heart... I'm so appreciative, I really am," said Judith Light (ex-Karen Wolek, "One Life to Live") on the red carpet of the 2013 Tony Awards just moments before taking home her second Tony on Sunday, June 9. The actress won for Best Performance by an Actress in a Featured Role in a Play for her work as Faye in "The Assembled Parties." The play also stars Jake Silbermann (ex-Noah Mayer, "As The World Turns") playing the dual role of Scotty/Tim.
Daytime fans might remember Billy Magnussen as "As the World Turns'" Casey Hughes, a role he played from 2008-2010. But the Broadway world has taken notice of the young actor for his work in front of live audiences, and his recent stint as the empty-headed yet handsome boy-toy Spike in "Vanya and Sonia and Masha and Spike" has even earned him a Tony nomination! But will the former soap stud be able to nab the role? You'll have to tune in to find out!
According to the Hollywood Reporter, former "General Hospital" star Marissa Ramirez (ex-Gia) has been upped to series regular on CBS' "Blue Bloods" beginning with the primetime shows fifth season. Ramirez, who joined the series as a recurring guest-star beginning with the Friday, March 8 episode entitled "Protest Too Much," portrays Detective Maria Baez, the former and now ful-time partner of Donnie Wahlberg's Detective Danny Raegan. The actress is replacing Jennifer Esposito, who portrayed Wahlberg's onscreen partner, Jackie Curatola, on the drama series until November of last year.
It's been awhile since Terri Conn (ex-Aubrey Wentworth, "One Life to Live;" ex-Katie Peretti, "As the World Turns") has been in the public eye, but that's all about to change! The actress will be joining Anthony Rapp ("Kidnapped," "Adventures in Babysitting") and Patrick James Lynch ("At the Top of the Pyramid") in leading a benefit reading of "Deleted Scenes," an event that will generate proceeds to help the Hemophilia Association of New York.
As
previously reported
,
Paolo Seganti
(ex-Damien Grimaldi, "As The World Turns") has joined the cast of The OnLine Network's "One Life to Live" as Arturo Bandini, a wealthy, suave and sexy man whose family is very influential in the art world, beginning with the
 Thursday, June 27 
episode. TOLN has released the first image of Seganti in his new role, which can be viewed above.
"As The World Turns" alums Paolo Seganti (ex-Damien Grimaldi) and Marnie Schulenburg (ex-Alison Stewart) along with "Guiding Light" alum Ron Raines (ex-Alan Spaulding) are joining the cast of The OnLine Network's "One Life to Live," the network announced today. The three former CBS Daytime soap stars make their Llanview debuts this summer in newly created roles.
The harrowing real-life case of Jodi Arias has gripped the nation for months, and hot off the heels of the 28-year-old woman's conviction last week for murdering her former lover, Travis Alexander, comes a Lifetime original movie detailing Arias' life and the details behind the killing that shocked America.