In the newest issue of Soap Opera Digest, on newsstands now, it's revealed that Serena Mason will become the first victim of the upcoming serial killer storyline on NBC's "Days of our Lives." The news doesn't come as much of a surprise considering the character was one of the first reported to be leaving Salem following the hiring of a new head writing regime earlier this year. In an interview with the magazine, portrayer Melissa Archer talks about how she found out about her character dying, what's next in her career and how Serena meets her maker!
"Albert [Alarr, co-executive producer] asked me to come up to his office to talk. He said there were a lot of story changes, that they were going to kill off the character, and that it was for a story point," reveals Archer about how she found out she had been fired from the series. "I completely understood and somewhere, pretty much expected it. It was a very positive experience. I joke about it like, 'Getting fired, it didn't really feel like it.' It was the most pleasant 'getting fired' conversation I've ever had. There was laughter. It was great, actually."
As for who the killer is, Archer isn't saying, but she does reveal that it was her idea to have a death scene for Serena. "I didn't even know who it was when we shot it. I do know now. It was cool in a way because I'd never been killed on anything before, so it was like, 'Oh, that'll be fun!' And then I asked if I could have a death scene because I am a nerd. The funny part is, I don't think there was one in there originally, but they ended up putting that in and I was so excited. I was running around to every actor like, 'Look, they added a death scene. Yay!'"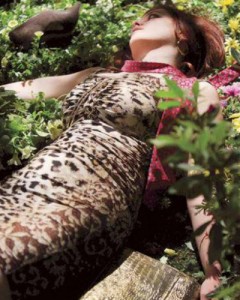 Although Serena will be having a fun flirtation with Chad DiMera (Billy Flynn) next week, sadly she'll meet her maker shortly thereafter and it's former love, Eric Brady, who discovers the body. "He discovers Serena on a bed of roses, a body amongst the flowers," says Eric's portrayer Greg Vaughan. "Eric is in shock. He experiences guilt and self-blame that this has happened to Serena," Vaughan adds. "Eric is going to carry the burden of her murder on his back."
Outside of "DAYS," Archer can now be seen in "Viral: The Series," a new web series she executive produces alongside former "One Life to Live" co-star Jessica Morris (ex-Jennifer Rappaport), veteran director Sonia Blangiardo ("All My Children," "As The World Turns," "General Hospital," "Tainted Dreams"), who created the series, and Brandon Goins ("My Big Gay Italian Wedding").
The series, which stars Archer and Morris as Kat and Jackie, respectively, tells the story of two young ladies who are kicked out of a bar they frequent due to several violent incidents they were directly involved in. When told they aren't allowed back in, despite needing to use the restroom really badly, the ladies walk off into an alleyway and let loose. Unfortunately for the girls, they aren't aware at the time that their antics are being filmed by two neanderthals and that their experience will soon go viral.
"Viral: The Series" also features soapers Robert Scott Wilson (Ben Rogers, "DAYS"), Eric Nelsen (ex-AJ Chandler, "AMC") and Sean Carrigan (Stitch Rayburn, "The Young and the Restless").
For more on "Viral: The Series," visit www.viraltheseries.com.
WHAT DO YOU THINK? Will you miss Serena on "DAYS"? Could the show have exited the character any differently? Will you follow Archer if she were to join another soap?