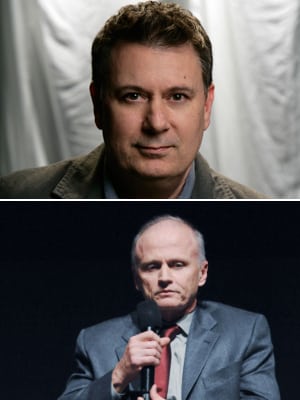 After several months of disastrous ratings returns that has left many in the industry wondering if "Days of our Lives" would survive its next renewal talks between NBC, Sony Pictures Television and Corday Productions, producers of the soap, the daytime drama series will welcome back veteran writer Dena Higley, and former "One Life to Live" and "The Young and the Restless" head writer Josh Griffith, as its new head writers. The two replace outgoing head writers Gary Tomlin and Christopher Whitesell.
While the soap has yet to confirm the news, Soap Opera Digest reports that Higley and Griffith will begin their writing duties on Monday, February 16. Sadly, as a result of the soap's current filming schedule, don't expect their material to hit the air until at least mid-to-late July. The two will be tasked with writing material leading up to the 50th anniversary of the soap, which debuted on November 8, 1965.
In addition to her head writing stints in 2003 and 2008-2011, Higley also oversaw the writing of "One Life to Live" from December 2004 to September 2007, part of which she shared writing duties with current "General Hospital" scribe Ron Carlivati. Higley originally joined the writing team of "DAYS" in 1985. Meanwhile, Griffith, best known for overseeing the golden age of "OLTL" from 1992-1995, alongside Michael Malone, and again from 2003-2004, has written for "As The World Turns," "General Hospital" and "Santa Barbara," in addition to his aforementioned stint on "Y&R."
Discussion of whether to continue "DAYS" beyond September 2016 is not expected to begin until late this year or early next.
So far this season, "DAYS" remains in last place among all soaps in all key categories: viewers, women 18-49, women 25-54 and the once dominant women 18-34 sales demo.