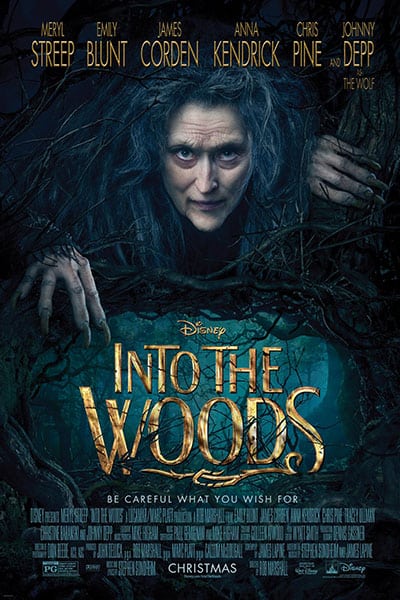 Now that the Thanksgiving holiday has come and gone, Christmas Day will be all the rage this holiday season. If you're not interested in staying home to open your presents and spend time indoors with the family, why not go "Into The Woods" with soap alums Billy Magnussen (ex-Casey Hughes, "As The World Turns") and Mackenzie Mauzy (ex-Phoebe Forrester, "The Bold and the Beautiful")?
This holiday season, Disney presents a new whimsical film starring Meryl Streep as The Witch in a modern-day twist on the beloved Brothers Grimm fairy tales, while intertwining the plots of a few choice stories and exploring the consequences of the characters' wishes and quests. Featured tales include Cinderella, Little Red Riding Hood, Jack and the Beanstalk, and Rapunzel — all tied together by an original story involving a baker and his wife, their wish to begin a family and their interaction with the witch who has put a curse on them.
"Into The Woods" reunites Streep with "The Good Wife" actress Christine Baranski. The two previously appeared together in the 2008 international box-office musical sensation, "Mamma Mia!" In addition to Streep and Baranski, the film also stars Chris Pine as The Prince, Anna Kendrick as Cinderella, James Corden as The Baker, Emily Blunt as The Baker's Wife, Lilla Crawford as Little Red, Daniel Huttlestone as Jack, and Johnny Depp as The Wolf. Magnussen portrays The Other Prince while Mauzy takes on the role of Rapunzel.
The film, based on the Tony® Award-winning musical and directed by Rob Marshall, features music and lyrics by Stephen Sondheim, which can be purchased by clicking here. For more information on the film visit the official website.