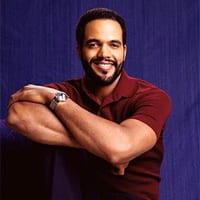 (SoapOperaNetwork.com) — "The Young and the Restless" Episode Recap – Monday, October 10, 2011.
IT HAPPENED TODAY…
Ashley tried to do her best to comfort a numb Tucker, after learning the news that Devon is his son. He shared that he had wished he would have found him sooner. The two continued to talk, and Ashley shared her feelings about Katherine purposely keeping Tucker and everyone else in the dark about Devon's paternity. Meanwhile, at Crimson Lights, Cane and Malcolm overheard Eden reading a portion of the Restless Style article about Devon's new family ties. Malcolm was furious at the lack of trust he had with Phyllis; while Cane awaited for Daniel's arrival, asking the young man to be there for Lily.
Nick was upset with Phyllis for writing the article. Phyllis told Nick that it was information that was huge for everyone to know, therefore it was their job to break big stories. Nick believed Phyllis went behind his back as an attempt to start a fight with him. He stated that when things seemed to get good between them, she'd do something to ruin it. Phyllis snapped at Nick when he brought up Avery in their discussion. He gave Phyllis a warning: be prepared for many confrontations for what she had done. When he departed, Malcolm showed up, lashing out at Phyllis for putting something that was in confidence out there for all to see.
At a diner, Yolanda, who wanted to be known as Harmony, was stunned to see the article on a customer's laptop. She asked her boss if she could take off to tend to her son, but he refused. Meanwhile, Devon, who was still in shock, received advice from Neil not to pass criticism on either Yolanda or Tucker. Devon pointed out to Neil that the only family he knows is him, Lily and Sofia. They soon received a phone call from Katherine, asking Devon to see her at the hospital. Neil told Devon to be careful when dealing with her.
Things weren't good between Sofia and Neil, who still couldn't believe her dedication to Tucker. Sofia hit a nerve when she said she wanted to help Devon to get to know his father. Neil was dead set against it. He said that she only cared about Tucker, while his main priority was to care for Devon. As he left to go search for his missing cell phone, Sofia went into labor.
Devon was at the hospital when he ran into Abby, who was outside by Katherine's hospital room. When Abby commented on Katherine's condition, she was floored when Devon called Katherine his grandmother. He filled her in on how Katherine learned and withheld the truth about who his father was from everyone. As for Tucker, he continued to doubt that Devon would embrace him as a father. Ashley did her best to comfort him, sharing that if Devon got to know him the way she has, he will grow to love and become close to him.
Standing outside by Katherine's hospital room, Devon recalled his excitement to the job offer Katherine gave him, but recalled Tucker's warning about her. When he entered his room, her kind words fell on deaf ears. Devon was angry that she used the truth as a way to get back at Tucker. Katherine told her grandson that she didn't want Tucker to use him. As the two talked, Cane, who was there to see Katherine as well, listened in on a portion of their conversation. Katherine wanted to make things right; Devon said do right by apologizing to Neil first of all. Before leaving, Devon told Kay that he wanted nothing from her. A heartbroken Katherine came face-to-face with Cane, who offered to be there for her.
Abby took great delight in trashing Tucker, calling him a pathetic excuse of a father. She continued to trash talk him, saying that while he wanted to live the life of a rock star, he left Devon in the care of a druggie mother. Ashley quickly came to Tucker's defense, telling Abby that she won't allow her to talk to him that way. A determined Abby wouldn't let up, telling her mother that Tucker ruins everyone that comes in his path. Just then, Tucker received word from his PR manager that he and Devon all all over the Restless Style article Phyllis put out. Tucker immediately worried about Devon's emotions.
Neil showed up with his resignation for Katherine. She wanted to talk with him about things but he didn't want to. She sobbed, saying that Neil was a wonderful friend to her. Neil pointed out that they 'used to be friends'. He walked out of the room, leaving Katherine even more upset.
Devon went home, still numb by all that was happening to him. He soon heard someone by his door and was stunned to be face-to-face with his mother.
Cane saw Lily at the coffeehouse and began to see how she was doing. She expressed her gratitude to him for being a good support to her. While Lily was expressing her gratitude, Daniel, on the other hand, was ripping into his mother for her actions regarding Devon. He stated all she cared about was herself. Phyllis pointed out that she cared about him. He scoffed at her, pointing out how she set out to get what she wanted: Lucy, Nick and to out-do the magazine competition. He snapped that he hoped she was happy. She stormed off.
Neil learned from Malcolm that Sofia went into labor. He was surprised, since the baby wasn't due for another month.
Ricky had a brief run in with Eden. After he helped her from dropping her laptop, the two gave one another a quick once over. When Ricky met with Avery at the Athletic Club, then busied themselves with the search for possible jury members. He asked her if they could take a break but she wanted to keep working; that was until Nick showed up. He asked if they were doing work on Sharon' case, but Ricky quipped that Avery was all about work. Avery soon changed her mind on the break, in an effort to talk to Nick. As the two talked, she accidentally knocked over a glass of water, splashing Nick's jacket. When she tried to dry him off, she bumped over another glass of water. Avery apologized and went to get napkins to help Nick. While she was gone, Phyllis arrived, only seeing Nick. She was set to go over to him but stopped in her tracks when she saw a giggly Avery dabbing Nick dry.
On the Next The Young and the Restless…
Katherine leaves the hospital early
Devon comes face-to-face with his mother
Jack wants to settle Jabot business with Tucker