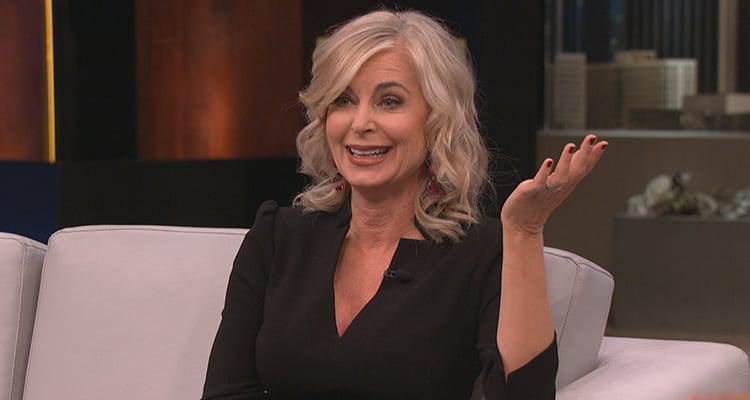 Eileen Davidson (Ashley Abbott, "The Young and the Restless") appeared on the Monday, June 4 episode of "Steve." Watch what she had to say about the soap and her reality show.
As previously reported, "The Young and the Restless" actress Eileen Davidson (Ashley Abbott) appeared on the Monday, June 4 episode of "Steve," the syndicated daytime talk show hosted by Daytime Emmy Award winner Steve Harvey. Now find out what she had to say about which show has the most drama: "Y&R" or "The Real Housewives of Beverly Hills."
In response to Harvey's dramatic question, Davidson notes that Bravo's reality hit actually contains more drama than your typical daytime soap. "Doesn't that kind of make sense?" Davidson responds. "I mean, honestly, the 'Housewives' isn't scripted and you never know what you're going to get. You go to have lunch and you end up with a drink in your face."
Speaking of the "Real Housewives," Davidson admitted how shocked she was to learn figure skater and "Dancing with the Stars: Athletes" winner Adam Rippon was a fan of the show and that she ended up being the last thing he searched online when asked during an interview because of, ironically, that drink in her face.
"Quite honestly, I was in the makeup chair at work and I was reading the New York Times on my phone. They asked him what was the last thing he Googled, and he said, 'Brandi [Glanville] throwing wine in Eileen Davidson's face,' and I almost did a spit-take," said the actress while expressing her immediate response to what she had just read in Rippon's March 2018 interview with the Times.
The scene in question aired in 2015 and featured Glanville and Davidson, along with co-stars Lisa Rinna ("Days of our Lives") and Yolanda Hadid, having lunch. Glanville had been pestering Davidson to play the slutty side of her "DAYS" character, which resulted in the "Housewives" alum throwing what remained in her wine glass at Davidson.
Watch the full clip of Davidson's appearance on "Steve" below.
Watch the iconic "Housewives" clip in which Rippon Googled below.