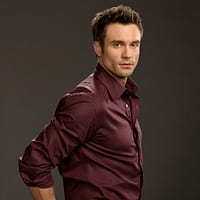 (SoapOperaNetwork.com) — A look at what's happening on "The Young and the Restless" during the week of October 24, 2011.
THIS WEEK ON: THE YOUNG AND THE RESTLESS
On Monday, October 24 a passionate lip-lock between Jack and Genevieve unnerves 'Myrna' the housekeeper. Avery goes to Adam with a new plan to save Sharon. Thursday, October 27, Billy's at his wits end with his constant hiding.
The Inside Story: Cane and Lily Finally Reunite
Lily becomes attracted once again to Cane, after she realizes everything he did to protect her and his family from Colin. The two decide to close the chapter of Colin once and for all when they head to the prison to pay him a visit. Once there, Colin has no choice but to listen to Lily rip into him for everything he's done to her and her family. When she's through speaking, however, Colin tells the young couple that he could be released from prison at some point. Cane wants an apology from his father but is crushed when he doesn't get what he wants. The couple leaves the prison and head back to Lily's apartment, where the two of them have sex. Cane tells Lily that he's ready to start over in their marriage to one another.
A Closer Look: Adam Learns Patty's Back in Genoa City
Gathered at the warehouse, all in attendance from the request of their latest text message watch the movie projector that shows each person in their altercation with Diane before her murder. Each person assumes that Ronan is the one that is behind their being there. As they continue to watch, the film each place accusations at one another. Nick, however, points out that the only person not featured in the 'film' is Adam. Jack, meanwhile, gets a phone call from Genevieve telling him that Ronan's cell phone was missing at the time he received the text message. When Ronan does show up, they all realize that they were set up by someone else. They do their best to keep Ronan from discovering what was shown. While Ronan is busy with the suspects at the warehouse, Adam, meanwhile, has been lured to a pumpkin patch. When he gets there, he notices something unusual. He soon realizes that Patty has returned back to Genoa City. When he returns back to his suite at the Athletic Club, a package is delivered to him. He opens it up to find a cell phone inside. Just then, Ronan, who has left the group, is headed to see Adam. When Adam opens the door to him, Ronan spots his cell phone. Adam insists that the phone was just delivered to him, but Ronan takes him to the police station for questioning.
What To Watch
Monday, October 24: Victor accuses Adam of setting everyone up at the warehouse
Tuesday, October 25: Victor gives Avery new instructions for Sharon's case
Wednesday, October 26: Roxy puts the kibosh on Abby's feelings for Devon
Thursday, October 27: Nick walks away from Sharon; again
Friday, October 28: Adam sets a plan in motion to mess with Heather
The Young and the Restless News and Headlines
Lauralee Bell will be returning at Christine Blair on November 9
After many months of speculating whether she'd return or not, word is that Melody Thomas Scott will be coming back as Nikki Newman. Word is her first air date is slated for November.
Sean Kanan will be heading back in the role of Deacon Sharpe
Y&R ALERTS BONUS: FALL 2011
Tragedy comes to the town of Genoa City in the form of Patty
Nikki returns back to Genoa City and is thrown right in the middle of the Diane Jenkins murder
The Newman men come back into Sharon's life one way or another now that she is free
Adam and Sharon both have a hard time with their feelings for one another
It's shaky ground for Sharon when it comes to a relationship with Nick and Faith
A mysterious woman by the name of Chelsea could draw Billy's secret in Burmese out into the open
Cane and Billy find common ground when Cane gives his support and understanding
Giving a helping hand could place Cane in harm's way
Avery's growing feeling for Nick has him also interested in her
Avery refuses to give up on having a relationship with Phyllis
Christine returns home not only to help in the Colin arrest, but also to find herself rehashing painful times with Paul regarding Isabella