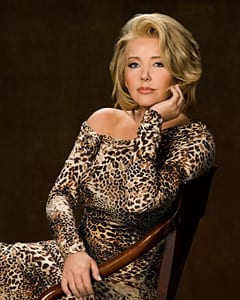 (SoapOperaNetwork.com) — After months of speculation that Melody Thomas Scott (Nikki Newman) was getting the shaft by CBS' "The Young and the Restless" and its producer Sony Pictures Television, TV Guide Magazine's Michael Logan sat down with the actress who confirms that she has signed a new deal with the soap after contract negotiations hit a stand-still.
"Negotiations are a necessary evil and are always very bizarre. I guess maybe with me more so than other actors. I don't know why that is. It's the nature of the world I've chosen to live in," said Scott.
"It's always the same scenario. First, contact is initiated. The protectors of both sides chat and everything is fine. Things go back and forth in a fairly friendly manner. Time marches on. And eventually there's a moment—with seemingly no forewarning—when everything changes in the flick of an eye and both sides instinctively know that the dreaded cone of silence has suddenly descended and there will be no more talk and you have to shut down. It's maddening. But I guess that's showbiz."
Things got so bad that the show was forced to write the character off the canvas despite its plans to eventually work something out with the actress. This resulted in some much needed vacation time for Thomas Scott and a huge storyline plot for "Y&R."
"I'm going to take advantage of this overdue breather and have a little "me" time, travel a little bit, get reacquainted with my family and friends. I finished shooting just last Thursday [July 2]. And I really have to hand it to the writers. Nobody knew how this [contract situation] was going to end so they very cleverly figured out a way to get me off the show."
Since joining "Y&R" in 1979, Thomas Scott has enjoyed a wonderful and thrilling life. She met future husband Edward J. Scott, former executive producer of the soap, and the two have three daughters, Elizabeth, Alexandra and Jennifer. She was nominated for Outstanding Lead Actress in a Drama Series Daytime Emmy for her work on "The Young and the Restless" in 1999.
Coming Soon to Y&R: Melody Thomas Scott's daughter Elizabeth Scott to appear as a background player on the Friday, July 24 episode of the soap.
For more on Melody's interview with TV Guide Magazine, head on over to the mag's website.
"The Young and the Restless" airs Weekdays on CBS. Weeknights on SOAPnet. Check local listings.