TNT has announced that the third season of "Dallas" will kick off on Monday, February 24, which will be the first season without actor Larry Hagman and his iconic character J.R. Ewing. Hagman died just before season two premiered, and as a result the show was forced to kill off the character as well. In season three, Patrick Duffy's Bobby Ewing is now the senior member of the Ewing family following the death of his older brother. John Ross (Josh Henderson) is out to prove he can be just as powerful an ally or enemy as his infamous father. Meanwhile, Bobby's adopted son Christopher (Jesse Metcalfe) is newly single and determined to make a name for himself and his family in the world of natural gas. John Ross and Christopher's former girlfriend, Elena Ramos (Jordana Brewster), is now  blinded by thoughts of justice for previous wrongs.
"I don't expect to get it. They usually don't give it to you two years in a row. So for me the real thing is to have been nominated and to have been acknowledged in this way, which is really an acknowledgment of this extraordinary play by Richard Greenberg. This brilliant direction by Lynne Medow and this cast, which is my heart… I'm so appreciative, I really am," said Judith Light (ex-Karen Wolek, "One Life to Live") on the red carpet of the 2013 Tony Awards just moments before taking home her second Tony on Sunday, June 9. The actress won for Best Performance by an Actress in a Featured Role in a Play for her work as Faye in "The Assembled Parties." The play also stars Jake Silbermann (ex-Noah Mayer, "As The World Turns") playing the dual role of Scotty/Tim.
Ron Palillo, best known for his star turning role as Arnold Horshack on "Welcome Back, Kotter," has died, reports TMZ. The actor appeared as Gary Warren in episodes of "One Life to Live" in 1994. He died this morning of an apparent heart attack.
On Thursday, August 9, "OLTL" lost another alumnus when Al Freeman, Jr., passed at age 78. He portrayed Llanview Police Captain Ed Hall on the drama series from 1972 to 1988. He won the Daytime Emmy Award for Outstanding Lead Actor for his role on "One Life" in 1979 – the first win in that category for the soap and the first for an African American actor. Former co-star Judith Light (ex-Karen Wolek) tweeted "Al freeman Jr. amazing man,extraordinary actor,a joy 2 work with on the soap opera OLTL. He will missed. Rip dearest Al." Cause of death has not been released.
(SoapOperaNetwork.com) — After scheduling conflicts reportedly kept her from reprising her signature role of housewife turned hooker Karen Wolek on "One Life to Live" in show's final months on the air, Judith Light is finally coming back to Llanview…sort of. On Friday, January 13, just three hours before the final "One Life" episode airs, Light will set down on "The View" with several of her former co-stars to recall some of her fondest memories of the soap she called home from 1977-1983.
Also participating in the hour-long tribute to all things Llanview will be Erika Slezak (Viki), who will be co-hosting the show, as well as Robin Strasser (ex-Dorian), Kassie DePaiva (Blair), James DePaiva (ex-Max), Hillary B. Smith (Nora), Robert S. Woods (Bo), and "OLTL" creator Agnes Nixon.
According to a press release, "the show will also feature additional 'surprise' appearances; exclusive, never-before-seen footage of the final taping; never-before-seen interviews with some of the special guest stars and returning cast members; an exclusive sneak peek clip of the final broadcast of 'One Life to Live;' the last cast photograph, and a special video taped messages from past stars. A musical montage will showcase some of the show's most memorable moments."
In addition, the show's audience for that episode, which will be taped on Thursday, January 12, will be composed solely of "One Life to Live" fans. Click here to request your tickets for the show, and you can leave your comments on "The View's" homepage, telling who and what you would like to see in the episode, here.
(SoapOperaNetwork.com) — With only one week left to go until production on its ABC Daytime run is finished, the list of former "One Life to Live" cast members returning to Llanview continues to grow.
Among those rumored to be making their final appearances on the soap before it moves to Prospect Park are Jessica Tuck (Megan), Roscoe Born (Mitch), Susan Batten (Luna), Barbara Garrick (Allison), Ty Treadway (Colin/Troy), and Meghann Fahy (Hannah), many of which were spotted by fans entering and exiting the show's studios in recent weeks.
Those listed above are in addition to the previously confirmed returns of Catherine Hickland (Lindsay), Fiona Hutchison (Gabrielle), Tonja Walker (Alex), January LaVoy (Noelle), John Rue (Moe), Tuc Watkins (David), and Brian Kerwin (Charlie). Kate Miller is also reportedly coming back for a few episodes as Brody's (Mark Lawson) sister Nadine Lovett. And, as we previously reported, "OLTL" creator Agnes Nixon will tape scenes on November 17, that will air during the week of January 9. Nixon will play Agnes Dixon, the creator of "One Life's" infamous soap-within-a-soap "Fraternity Row," and will be interviewed by Blanca Morales (Carolina Bermudez).
On a related note, Mellini Kantayya, who has played a recurring dayplayer nurse over the years, will also be back in the show's final weeks. The actress tells Soaps.com that "These last times shooting are bittersweet. I'm sad to see the show go, but I really feel lucky that they've had me on so often during the years. I've met and worked with so many talented people. It's been a truly wonderful experience." Kantayya will tape her final scenes on November 11 and 15.
However, it appears as if two at least three  of "One Life to Live's" most memorable characters won't be coming home to Llanview for the show's ABC finale. Judith Light, who played housewife turned hooker Karen Wolek from 1977-83, is reportedly not reprising her role, despite earlier rumors to the contrary.
James DePaiva, who portrayed Max Holden from 1987-90 and  from 1991-2003 (and again briefly in 2007), is also not returning. In an interview with TvLine, the actor's wife and former co-star Kassie DePaiva (Blair), revealed that the show had not approached her husband about returning to the show. "I'm really shocked that they didn't bring Max back. Jim DePaiva made a huge contribution to the show, and I don't know if it was intentional, the snubbing… but it doesn't take [his contributions] away. Women of my generation still think he's hot, and I'm married to him so I'm the luckiest one here!" DePaiva also talks about the future of Blair and how she hopes that she will reunite with Todd (Roger Howarth). Click here to read the full interview.
And Robin Strasser, who left "OLTL" in August after playing Dorian Lord off and on for nearly thirty years, tweeted earlier this week that "I have NOT declined numerous offers to return. September, I was asked to do 3 shows, I'd just gotten out of hospital. Looked like a wreck." Strasser also reveals that she has not been approached by Prospect Park about returning yet either.
In addition, Crystal Chappell, who played Maggie Carpenter on "One Life to Live" from 1995-97 is also not returning, despite being spotted outside the show's studios last week. According to Soap Opera Digest, Chappell "was just visiting good friend (and 'Venice' co-star) Hillary B. Smith (Nora). Chappell was in New York for a few days and was sharing Smith's Manhattan hotel room for some much-needed girl time."
(SoapOperaNetwork.com) — With "One Life to Live" nearing the end of its run on ABC Daytime, the list of returning former cast members is increasing. And, while the list is impressive, it is lacking one important ingredient for long-time fans of the soap.
With the exception of Judith Light, who is rumored to be making an appearance as Karen Wolek in the near future (which has yet to be officially confirmed), no one (character or actor) from the first two decades that "One Life to Live" was on the air are said to be on the list of possible returns (and no, Tina's recent return doesn't count). But this is hardly a new development. The same thing happened more than years ago when "OLTL" celebrated its 40th anniversary in 2008.
While this decision ignores nearly half of the show's history and legacy, I can see where the writers are coming from in a sense. Aside from older, long-term fans who have watched the show since almost since its inception, and history buffs who like to research the early goings on in Llanview, the majority of today's "One Life" fans likely have no connection to characters like Carla Gray, Steve Burke, or Elieen and Julie Dennison. Furthermore, several of the actors who played those characters back in the late 1960s and early and mid 1970s have since passed on. And, many of those characters would either no longer have any friends or family currently residing in Llanview or, if they did, no obvious reason to contact them now when they haven't do so in twenty or thirty years anyway.
Even so, it would still be a nice way to honor the entire 43 year history of the show, and not just the last 23 years of it, especially considering that "One Life's" early years were filled with storylines that were deemed rather controversial, ground-breaking, and unheard of it for its time, such as the light-skinned Carla Gray (whom the audience thought was white) kissing a black man. That kiss alone prompted an ABC affiliate in Texas to drop the show from its daytime schedule at one time. Or Cathy Craig, a young girl hooked on drugs, whose counseling sessions took place with real-life drug addicts in New York City's Odyssey House. Even the soap's original name "Between Heaven and Hell" was deemed too controversial by the show's sponsors, prompting creator Agnes Nixon to compromise and go with a more traditional title.
That being said, I realize that the show's last two decades have also had their fair share of controversial and socially relevant plots like the homophobia/AIDS storyline, Viki's battle with breast cancer and enduring a heart transplant. But it was the success of those early storylines noted above the paved the way for the show to condition on with similar types of plots years later.
How interesting would it be for several of these characters who were last seen in Llanview twenty-five, thirty, or even thirty-five years ago to suddenly walk back into town? Even if Viki is the only person some of them recognize, what a nice nod to those long-time fans and to the show's history that would be. It would also be a treat for newer viewers to finally see a character they may have only heard or read about suddenly onscreen interacting with Llanview residents we are more familiar with. I know it would be me, having been born more than a decade after "One Life to Live" aired its first episode, and I'm sure it would be for many others as well.
That's not to say that I won't enjoy seeing Gabrielle Medina, Lindsay Rappaport, or Alex Olanov returning once more, or that I haven't like seeing Tina and Cord back in Llanview again. These were some of the characters I grew up with over the years. But is would certainly be interesting to see some of those I didn't grow up coming back as well. With Tina, Viki, and Todd all together again, imagine if we got to see their other siblings Meredith and Tony again (even if only in spirit form) for instance. Sadly however, I'm sure that "OLTL" likely won't even mention the names of many of these older characters in the final months. But even if they don't much of those first twenty years of Llanview will live on through the "OLTL" anniversary books, Youtube videos, and old photographs. And that is better than nothing for a show that has been a part of my life for more than a quarter of a century now. However, I will be really ticked off if the show doesn't ask Michael Storm to appear a final time as Dr. Larry Wolek. Just sayin'.
Moving on, congratulations to"Kelly" and  "CBRVA83," both of whom (for the most part) correctly guessed the answers to the trivia questions from the previous column. In case you missed the clues, here there are again with the answers: 1. What was the name of the episode of "Kate & Allie" that Frankie Faison (Richard Evans) appeared on, and what character did he play? Answer: "The Bad Seed;" a detective. 2. What legendary television star does Melissa Archer (Natalie) consider to be her role model? Anwer: Lucille Ball 3. What U.S. city does Florencia Lozano (Téa) say that she wouldn't like to live in? Answer: Los Angeles.
Now it's time to shake things up a bit and do some more trivia. 1. What small role did Peter Bartlett (Nigel) play in the film "Meet the Parents?" 2. To which magazine has Andrea Evans (Tina) served as a contributor? 3. What former "Andy Griffith Show" actor did Barbara Rhoades (Irene) co-star with in a 1968 Western, and what was the name of the movie? I'll have the answers in the November 15 edition of My View of Llanview.
Now, before I wrap up this column, I'm going to look into my crystal ball and give you a quick sneak peek at a few things coming up a few weeks down the road. Will a wedding go off without a hitch? Someone is discovered passed out. One man's past catches up with him. And wedding bells ring, but it may or may not be who you think.
Well that's concludes yet another column. Have a great week everyone! Have a safe and ghoulish Halloween and don't eat too much candy.
Take care, and until next time remember, we only have "One Life to Live"…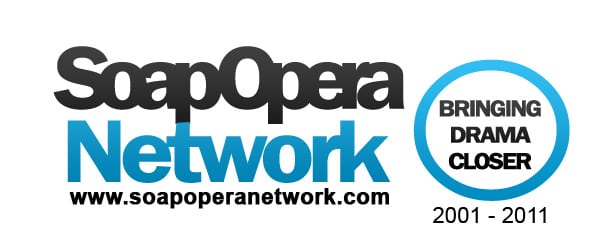 (SoapOperaNetwork.com) — October 8, 2011 marks the tenth anniversary of Soap Opera Network, an online magazine celebrating the world of soaps past, present and future.
Soap Opera Network began as an online message board on the then popular ezBoard (now called Yuki) platform by two individuals that wanted to start a more industry based discussion forum for fans of the soap opera genre with the idea that not only could one discuss the comings, the goings or the general news of the day, but have the opportunity to learn more about the names, the faces and the minds of the people that help make daily dramatic serials happen year in and year out. At launch, soap operas "All My Children, "As The World Turns," "The Bold and the Beautiful," "Days of our Lives," "General Hospital," "Guiding Light," "One Life to Live," "Passions," "Port Charles," and "The Young and the Restless" were on the schedules of television networks ABC, CBS and NBC.
In November 2002, Soap Opera Network left ezBoard and became its own .com service.
Thanks to elaborate databases such as a ratings archive (how soaps rated over the years), episode count archive (who appeared in episodes of a soap opera each and every month and year), its end credit archive (who wrote, directed or produced each episode), including a listing of episode writers and directors along with profile pieces on more than 80% of the writers, producers and directors, Soap Opera Network has cornered the market on information surrounding the inner workings of the soap opera format.
Over the course of its ten years, Soap Opera Network has interviewed a number of daytime's biggest stars and behind the scenes personnel including Susan Lucci, Erika Slezak, Melody Thomas Scott, Maurice Benard, Steve Burton, Sarah Brown, Hillary B. Smith, Robert S. Woods, Ilene Kristen, Ken Corday, Cameron Mathison, Cady McClain, Eden Riegel, Judith Light, Bradley P. Bell, Brian Frons, Maria Arena Bell, Sherri Shepherd, Daniel Goddard, Greg Meng, Marlene McPherson, Darrell Ray Thomas, Nancy Curlee, Melissa Archer, Kristen Alderson, Julie Pinson, Ron Carlivati, Frank Valentini, Linda Dano and many more.
Current Soap Opera Network staff is as follows:
Xavier Toups, Co-Founder
Errol Lewis, Editor in Chief; General Hospital Editor; Days of our Lives Editor
Angela Rosa, Managing Editor; All My Children Editor
Scotty Gore, Managing Editor; One Life to Live Editor
Venus Stone-Cutter, The Young and the Restless Editor
Gehrig Burnett Jr., The Bold and the Beautiful Editor
(SoapOperaNetwork.com) — The 25th Annual Broadway Fleamarket sponsored by Broadway Cares/Equity Fights AIDS took place today and several of daytime's biggest stars were on hand as celebrity guests including stars from "One Life to Live" such as Kristen Alderson (Starr Manning), Andrew Trischitta (Jack Manning), Gina Tognoni (ex-Kelly Cramer), Sean Ringgold (Shaun Evans), Ilene Kristen (Roxy Balsom) and even former cast member Judith Light (ex-Karen Wolek). Also in attendance was former "Guiding Light" actor Ron Raines (ex-Alan Spaulding), who is currently appearing in previews for the Broadway production of "Follies." Raines' former "Light" co-star Marj Dusay (ex-Alexandra Spaulding) was scheduled to appear but had to cancel due to illness. Also scheduled was "As The World Turns" actresses Eileen Fulton (ex-Lisa Grimaldi) and Ellen Dolan (Margo Hughes). Soap Opera Network spoke with a few of the stars and learned some interesting tidbits, one of which being that Ringgold received his offer from Prospect Park on Friday and he's since decided to continue with the show when it moves to the web in January along with "All My Children."
"You know what's funny, I was making up my mind cause I got the offer to come over on Friday [September 23] actually and I didn't give them my response, but after speaking with a couple of hierarchies, I just said 'you know what? I'll give it a year!' Why not? So I'm going to come over to Prospect Park." As for what the new version of the soap may look like and what fans can expect, Ringgold emphasizes that "There's going to be more of a free reign to do more things on the internet than you could normally do on network. It could get quite interesting. I'll leave that open for the imagination." As for the chance of new faces popping up and where they'll find their new filming digs, the actor says "I'm sure there are going to be new characters who are going to be brought on and I hope the studio goes to Brooklyn because I live in Queens. Although coming into Manhattan wouldn't be a bad thing – I'll miss Manhattan – but to just be able to wake up out of the bed and drive 10 minutes over to the studio. I'll be in heaven."
What is Ringgold looking forward to most for his character as the soap transitions from ABC to Prospect Park? "As long as Shaun is there for Destiny, and being supportive of his sister with her decision, whichever way we'll see how that turns out to be… just to be there for [my] sister and to make sure she's good and also my mom. They're going to bring my pops back and it'll be great if Greg [Terrell Tilford] popped up as well." Speaking of Destiny, particularly her portrayer Shennell Edmonds, can we expect to hear news of her continuing as well? While Ringgold couldn't confirm it as fact, he does hope it turns out to be the case.
Lastly with "One Life to Live" being canceled in April by ABC only to be picked up in July by Prospect Park, what happens to the planned series finale that was scheduled to air in January? "I'm sure they are changing the story a little bit because we're going to continue on with Prospect Park."