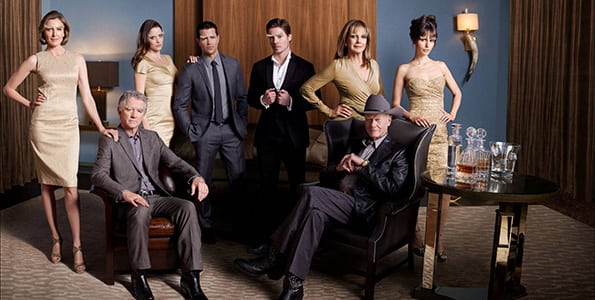 TNT has announced that the third season of "Dallas" will kick off on Monday, February 24, which will be the first season without actor Larry Hagman and his iconic character J.R. Ewing. Hagman died just before season two premiered, and as a result the show was forced to kill off the character as well. In season three, Patrick Duffy's Bobby Ewing is now the senior member of the Ewing family following the death of his older brother. John Ross (Josh Henderson) is out to prove he can be just as powerful an ally or enemy as his infamous father. Meanwhile, Bobby's adopted son Christopher (Jesse Metcalfe) is newly single and determined to make a name for himself and his family in the world of natural gas. John Ross and Christopher's former girlfriend, Elena Ramos (Jordana Brewster), is now  blinded by thoughts of justice for previous wrongs.
Rounding out the cast are Linda Gray as Sue Ellen Ewing, Brenda Strong as Ann Ewing, Ken Kercheval as Cliff Barnes, Julie Gonzalo as Pamela Rebecca Barnes, the wife of John Ross and daughter of Cliff. Mitch Pileggi returns as Harris Ryland, Ann's ex-husband and father of Emma Bell's Emma Ryland, who's lived life as a sheltered beauty that has been taught to distrust the world around her. Judith Light also returns as her character Judith Ryland.
"Dallas" is produced for TNT by Warner Horizon Television, with Cynthia Cidre, Michael M. Robin, Robert Rovner and Bruce Rasmussen serving as executive producers.