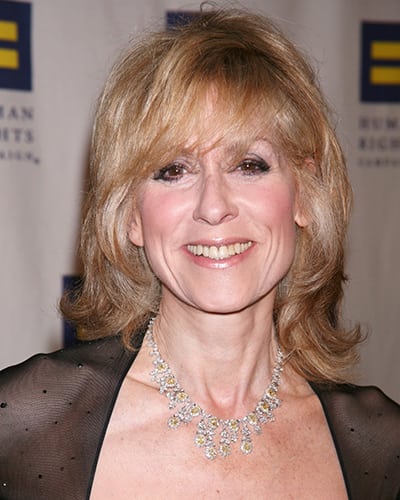 Judith Light (Judith Ryland, "Dallas;" ex-Karen Wolek, "One Life to Live") is probably best known for her onscreen comedic entanglement with Tony Danza on "Who's the Boss?," and her next project is set to be just as funny — but with an unconventional twist!
The actress stars in Amazon's new half-hour, 10-episode dark comedy, "Transparent," which follows a Los Angeles family headed by Maura (Jeffrey Tambor), who previously spent her life as Mort — the family's patriarch! When she reintroduces herself to her family, everyone's secrets finally start to come out, including the secrets of her ex-wife Shelly (Light), and their children: meandering Ali (Gaby Hoffmann), record producer Josh (Jay Duplass), and sexually conflicted Sarah (Amy Landecker). Each family member spins in a different direction as they begin to figure out who they are going to become.
Written, directed and executive produced by Emmy-nominee and 2013 Sundance Best Director winner Jill Soloway ("Afternoon Delight," "Six Feet Under"), the comedic series will be available on Amazon Prime on Friday, September 26.
"We couldn't be more pleased to offer our customers all episodes of 'Transparent' in late September," says Roy Price , Director of Amazon Studios. "Jill has an amazing ability to create deep, engaging and rich stories and characters. We think customers will enjoy this fresh, humorous, and touching series."
Adds Soloway: "I am beyond excited to share 'Transparent' with the world through Amazon. They've been so supportive through this incredible process. Artistically, it's been a dream come true. I absolutely got to make the show I wanted to make."
Recurring guest stars in "Transparent" include Melora Hardin ("The Office") as Tammy, Bradley Whitford ("The West Wing") as Marcy, Carrie Brownstein ("Portlandia") as Syd, Kathryn Hahn ("Parks and Recreation") as Raquel, Alexandra Billings ("Grey's Anatomy") as Maura's friend Davina, and Rob Huebel ("Childrens Hospital") as Len.
Amazon Prime members can watch the first episode of "Transparent" now via the Prime Instant Video apps for Amazon Fire TV, Kindle Fire tablets, Fire phone, iPad, iPhone, iPod Touch, Roku , Xbox, PlayStation, Wii, as well as hundreds of other connected devices such as smart TVs, or customers can visit Amazon.com /PIV to watch online. Prime members can add "Transparent" to their Watchlist and easily access new episodes when they premiere on Friday, September 26.