After portraying Jane's latest love interest on "Jane the Virgin" during the spring portion of season three of the CW drama series, actor Francisco San Martin (ex-Dario Hernandez, "Days of our Lives") is returning to daytime television courtesy of CBS' "The Bold and the Beautiful."
According to TVInsider, which first reported the news, San Martin has been cast in the role of Mateo, the man tasked with monitoring the upkeep of the magnificent Forrester estate in Beverly Hills. With Sheila Carter (Kimberlin Brown) freely roaming about the mansion thanks to her ability to con Eric Forrester (John McCook), she finds a way to manipulate Mateo into doing her bidding as well — he's recruited to seduce Sheila's rival, Quinn (Rena Sofer), who Sheila is out to destroy by any means necessary.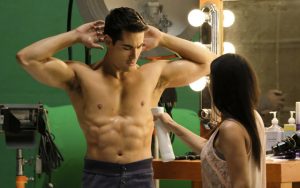 San Martin first hits the screen beginning Monday, October 2.
On "Jane the Virgin," San Martin portrayed Fabian Regalo del Cielo, the hot Latin star who helped put a spark back into Jane's (Gina Rodriguez) step after the loss of her husband, Michael (Brett Dier), during the winter finale.