In the January 4, 2016 issue of Soap Opera Digest, on newsstands now, "Days of our Lives" executive producer Ken Corday revealed the reasons behind the soap's decision to bring back actor Brandon Beemer (ex-Owen Knight, "The Bold and the Beautiful") to the role of Shawn Douglas Brady, the eldest child of Hope (Kristian Alfonso) and Bo (Peter Reckell), so soon after the blink-and-you-missed-it return and departure of original adult portrayer Jason Cook.
"We tried and tried and tried to make this deal with Jason," proclaims Corday of his desire to sign the actor to a full-time contract after he agreed to return for the recent 50th anniversary celebration. "We really went head over heels because we wanted him here. Jason was very torn between being a permanent part of 'DAYS' or expanding his career and we said he couldn't do both."
What seems to have been the sticking point was Cook's desire to have outs in any contract he would have signed with the soap that allowed him to do both the show and outside projects, which is a benefit some soap stars like "General Hospital's" Billy Miller (Jason Morgan) currently enjoys as a contract player on the ABC sudser.
"He couldn't be on our show and do movies every two months or something like that. So we were forced into making the decision," continues Corday on the matter. "We were lucky that Brandon was available or else Shawn would have left and we wouldn't have been able to tell a Shawn/Belle/Phillip story. Hopefully the audience will see this as seamless. With the advent of another character coming back to the show mid-year, it's going to make the Shawn/Belle/Phillip dynamic even more interesting."
The character returning is already known with word of Nadia Bjorlin already on set ready to reprise her role of Chloe Lane on a full-time basis beginning late Spring, but not before making a quick return engagement next month around the same time Salem comes together to mourn a loved one.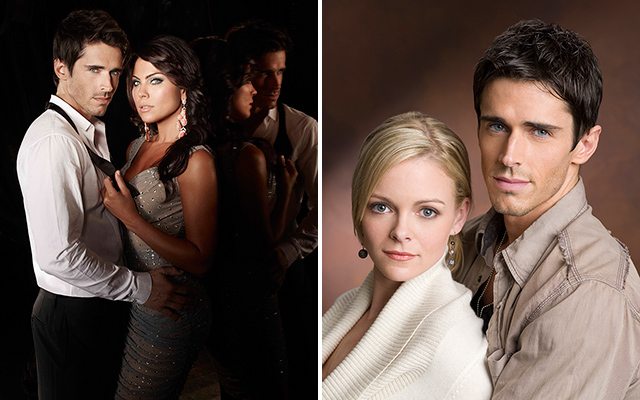 As for Beemer's return, the actor tweeted in November how excited he was to be returning to Salem: "Yes, it's confirmed that I am back at @NBCDays to reprise the role of Shawn Douglas and I couldn't be happier to be working with such a wonderful group of people. I've really missed them. You all better get ready for some great stuff to be on your screens very soon! Thank you all for the warm welcomes and support."
Yes, it's confirmed that I am back at @NBCDays to reprise the role of Shawn Douglas and I couldn't (cont) https://t.co/B5vW3ApJPo

— Brandon Beemer (@brandonbeemer) November 12, 2015
Jason Cook last aired as Shawn on Wednesday, December 2. A first airdate for Beemer has not yet been announced but the actor is expected to begin airing sometime in early 2016.
Editor's Note: Call it a case of not wanting to let the year go by: An earlier version of this article incorrectly listed the Soap Opera Digest issue date in which this article is based. The correct date is January 4, 2016, and not 2015 as was previously indicated.