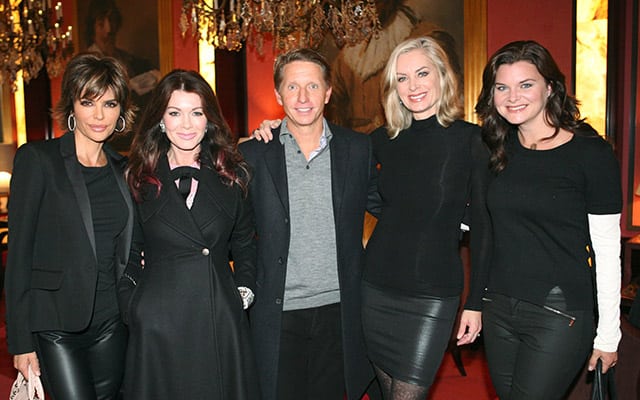 As previously reported, CBS' "The Bold and the Beautiful" is currently on location filming scenes in Amsterdam for upcoming episodes of the daytime drama series. In a soap opera twist, cast members from the soap met up with the stars of Bravo's "The Real Housewives of Beverly Hills," which reportedly now includes former "B&B" actress Eileen Davidson (Ashley Abbott, "The Young and the Restless"; Kristen DiMera, "Days of our Lives") and Lisa Rinna (ex-Billie Reed). Incidentally, because Bravo has yet to confirm either actresses participation in the series, it looks like the meeting of the former soapers (along with "Housewife" Lisa Vanderpump) and the cast of "B&B" has resulted in the "secret" being revealed!
READ ALSO: It's Official: CBS' 'The Bold and the Beautiful' To Film Episodes in Amsterdam
In addition to the above photo of Davidson, Rinna and Vanderpump, posed with "B&B" executive producer Bradley Bell and actress Heather Tom (Katie Logan), RealityTea.com has your first look video at the soapers/reality stars filming on location in Amsterdam along with their "Housewives" counterparts Yolanda Foster, Kim Richards, Kyle Richards and Brandi Glanville. The site also touches upon the previously reported alleged drama between Davidson and both Kim and Kyle, while teasing there's some steam brewing between Rinna and Glanville.
To see how everything unfolds, make sure to tune into the new season of "The Real Housewives of Beverly Hills" when it premieres on Bravo in the coming months.