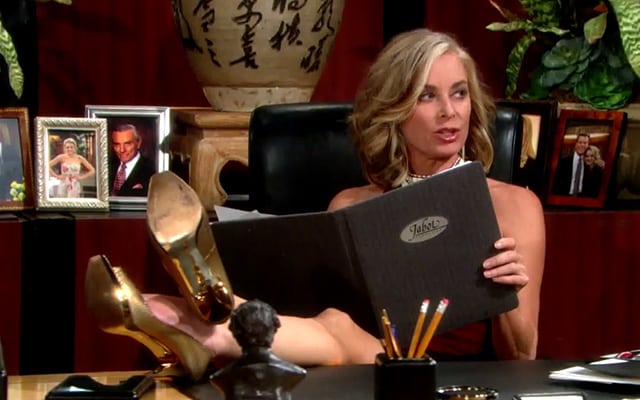 While it has yet to even be confirmed that "The Young and the Restless'" Eileen Davidson (Ashley Abbott; Kristen DiMera, "Days of our Lives") has joined the cast of Bravo's "The Real Housewives of Beverly Hills," much less the rumored $750,000 payday she's reportedly said to be receiving for working on the reality series – a record for a new cast member – Radar Online is reporting that Davidson is already feuding with co-star Kim Richards.
"RadarOnline.com has learned that she's been openly mocking Paris Hilton's aunt, Kim Richards, during filming of the reality show, and while some cast members don't like it, producers think it will be ratings gold!" states the online gossip rag that closely follows reality programming citing an insider close to the show. The insider claims "[Davidson] didn't make any effort to try to get to know Kim at all," while adding, "Eileen can come off as very snobbish and aloof."
"Whenever Kim and Eileen film together, there is always a lot of eye rolling on the part of the soap star," the insider notes. "Eileen complains that Kim is a total airhead and doesn't understand why she is even on the show. In Eileen's opinion, Kim is a total bore, and just rides on her sister, Kyle's coattails."
As for how Davidson reportedly gets along with fellow soaper Lisa Rinna (ex-Billie Reed, "DAYS"), "There's a very interesting dynamic between Eileen and fellow cast member and soap sudser, Lisa Rinna. Everyone will be extremely surprised by their relationship."
The new season of "Beverly Hills" is rumored to hit the air sometime in early 2015.
For more from Radar Online on this topic, click here, but in the mean time, What Do You Think about the rumored feuding between Eileen and Kim? Will you watch the show now that Davidson is reportedly joining the cast, or do you think Davidson should have stayed away? Sound off below…