"I don't know who any of these people are"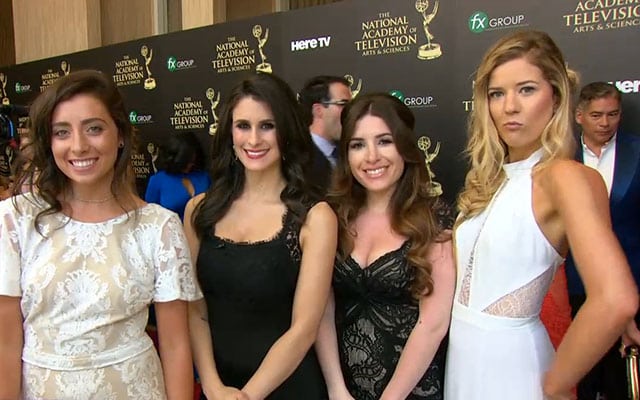 One week ago today, The National Academy of Television Arts & Sciences (NATAS) presented "The 41st Annual Daytime Emmy Awards" live from the Beverly Hilton Hotel in Beverly Hills, CA, which aired exclusively on the internet for the first time.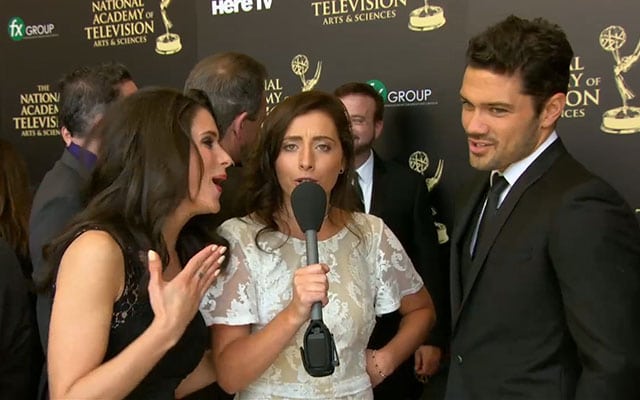 One week later, amidst drama surrounding the mess that was the social media/red carpet portion of the telecast, the daytime community and fans alike are still demanding an apology from the organization for hiring a group of women who didn't know a single person they were interviewing as they told "General Hospital's Ryan Paevey (Nathan West), "We're going to get you away from us before we rape you" and told "The Bold and the Beautiful's" Lawrence Saint-Vincent (Carter Walton) he was a "beautiful chocolate man" before casually asking him, "What's it like to be a black man on a soap these days?" But an insider tells Soap Opera Network, "NATAS didn't hire the red carpet hosts, MWW and HERE TV producers did!"
ALSO READ: DAYTIME EMMYS: Spike Jones, Jr. and SJ2 Entertainment Named Producers of Telecast With Terry D. Peterson (includes Here Media being named producers of social media/red carpet portion of "The 41st Annual Daytime Emmy Awards")
You'll recall that we first reported a casting call was issued earlier this month, where the producers of the social media/red carpet portion (MWW and Here Media) of the Daytime Emmys were looking for "millennials between the ages of 18-35, all ethnicities, who have a strong entertainment news background and/or very strong social media following (300,000 followers minimum)." On Wednesday, June 18, it was announced that they had selected four renowned social media experts — Vine star Brittany Furlan, style vlogger Lauren Elizabeth, beauty vlogger Jessica Harlow, style and beauty vlogger Meghan Rosette — to host the social media/red carpet aspect prior to Emmy telecast host Kathy Griffin taking daytime on for a ride of humor soon afterward. It turns out, however, that per our insider, the producers of this year's red carpet did not always keep NATAS abreast on their decision making including the hiring of the socially aware women. "Key staff members of NATAS were not always consulted by the producers with some of the decisions that were made, primarily the hiring of the red carpet hosts," says the insider of how things went down. By keeping these NATAS individuals out of the loop, they [MWW and HERE TV producers] essentially were running the show.
ALSO READ: DAYTIME EMMYS: Should NATAS Issue Apology for 'Offensive' Daytime Emmy Red Carpet Hosts?
Since the now infamous social media/red carpet incident, a mere 135,000 online streams of "The 41st Annual Daytime Emmy Awards" have been played, which includes the red carpet pre-show and the ceremony itself, according to current Livestream data. This despite producers planning to reach a potential global audience of millions of online viewers following a failure to secure a broadcast or cable network to air the annual kudocast. Maybe that's a good thing? After all, the socially aware were only paid $1,000 each for 12 hours of work.
NATAS and the social media/red carpet producers have yet to issue a comment.
In case you missed it, watch the full social media/red carpet mess as it happened and the Awards show itself below:

Or if you prefer to watch things in portions, you can either watch the red carpet by itself and the Emmys separately below:
DAYTIME EMMY TELECAST

DAYTIME EMMY RED CARPET