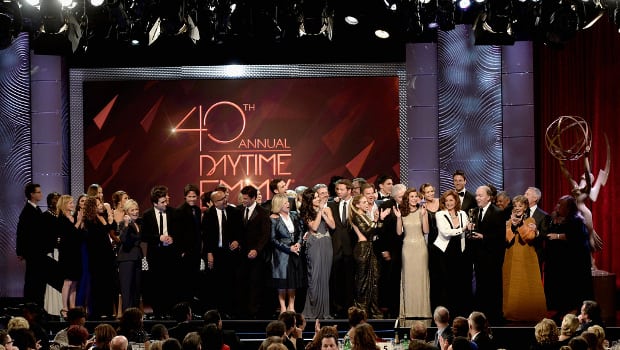 HLN, the cable network that has broadcast the Daytime Emmy Awards for the previous two years, has decided not to make a commitment for the 41st annual Daytime Emmy Awards this year.
As first reported by Soaps In Depth, the decision was made this early so the National Academy of Television Arts & Sciences could explore other options for the broadcast. "Having the show on HLN was a wonderful experience for us," explained David Michaels, senior executive director of the Daytime Emmy Awards, to the publication. "We are currently exploring other avenues so that the Daytime Emmys will have a broadcast home."
But on what network should the Daytime Emmys air, or in what format? In a Soap Opera Network exclusive, we reached out to two Daytime Emmy winners to get their thoughts.
"I would love to see the Daytime Emmys this year broadcast on TVGN [TV Guide Network]," says Sonia Blangiardo, a two-time Emmy winner for her directing work on "As the World Turns" and producing work on "One Life to Live." "With SOAPnet gone, TVGN saw the value in rebroadcasting 'Y&R' and 'B&B,' much to the fans' delight. They also aired the wonderful documentary 'Who Shot the Daytime Soap,'" explains Blangiardo. "I think this would be a perfect home for the Daytime Emmys."
Teresa Cicala, a four-time Emmy winner and co-winner of the 2013 Outstanding Multiple Camera Editing for a Drama Series award for her work on "One Life to Live," has a different opinion. "Actually, considering the growing trend away from network television towards more on demand content, I would love to see them stream live online but be available on Netflix or Amazon or Hulu. It would certainly make watching them more flexible with individual schedules!"
While some fans may prefer to see the awards back on one of the big three networks, that battle may be an uphill one. The awards alternated between ABC, CBS, and NBC between 1991-2008, where viewership fell from a record-high 22 million in 1993 to 5.4 million in 2008. CBS declined the awards in 2009 and they were handed off to the CW, scoring an even lower 2.7 million viewers. CBS picked the Daytime Emmys back up in 2010 and 2011, earning 5.6 million and 5.4 million viewers respectively. This is compared to the 2011 Primetime Emmy Awards, which drew 12.4 million viewers.
Why the decline in recent years? "I think one of the reasons that the Daytime audience has dwindled in past years (aside from the wider variety of choice that cable and internet offers) is that more and more the loyalty of these fans was taken for granted by the major networks," Cicala explains. "Daytime fans have proven loyalty — yet networks have cut down on promos, gotten rid of popular fan events — basically, the relationship has been left to flounder instead of being nurtured and grown."
In 2012, the Daytime Emmys came to HLN, where it drew just 912,000 viewers. While this may be low for a network like CBS, it was the most-watched, regularly scheduled non-news broadcast in HLN history. Last year's edition had a consistent 913,000 viewers as well. Point being, the Daytime Emmy awards may be more appealing to a cable television or internet outlet.
No matter where they are shown, however, Blangiardo believes it's crucial that the fans get to see them. "The Daytime Emmys are important to me and the rest of the industry because they are a forever icon of recognition to the hard work that goes into producing a soap. It gives the fans an opportunity to root for their beloved stars and shows."
Blangiardo and Cicala are also the producers of upcoming series "Tainted Dreams," which could be eligible for an Emmy award under a new category created by the National Academy of Television Arts and Sciences this year. They both agree that they don't want to imagine the possibility that the Daytime Emmys can not find another broadcast home. As Blangiardo says, "A world without the Oscars and the Tonys would be a sad one…why are the Daytime Emmys any different?"