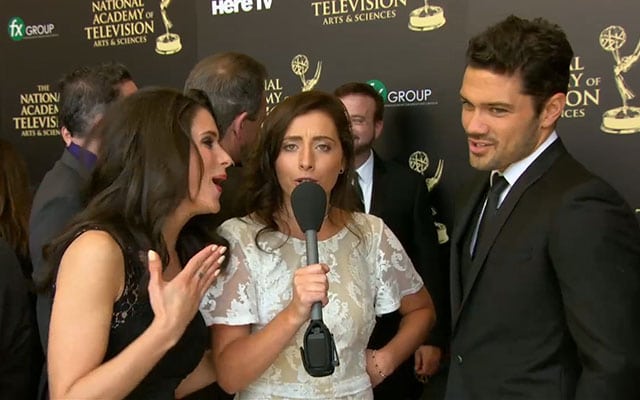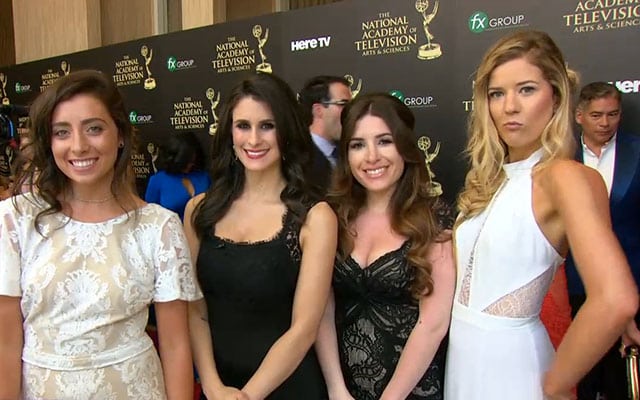 Opinions regarding the 41st Annual Daytime Emmy Award show have been mixed, but opinions regarding the four women that the National Academy of Television Arts & Sciences hired to host the red carpet pre-show remain the same across the board: The foursome are being criticized as being amateurish and downright offensive.
After a casting call issued by NATAS called for "millennials between the ages of 18-35, all ethnicities, who have a strong entertainment news background and/or very strong social media following (300,000 followers minimum)," the daytime community was met with Vine star Brittany Furlan, style vlogger Lauren Elizabeth, beauty vlogger Jessica Harlow, and style and beauty vlogger Meghan Rosette on the Emmy red carpet.
Though the four do have large followings on social media sites like YouTube, Instagram, Facebook, Twitter and Vine, that's about the only positive thing they offered during Sunday's event. As detailed by TVLine's Matt Mitovich, the offenses committed by the women include Furlan coming on to just about every male in attendance "to a degree that makes E!'s Giuliana Rancic look positively demure," and Harlow calling Lawrence Saint-Victor (Carter Walton, "The Bold and the Beautiful") a "beautiful chocolate man" before casually asking him, "What's it like to be a black man on a soap these days?" In addition, Furlan bade "General Hospital's" Ryan Paevey (Nathan West) goodbye by saying, "We're going to get you away from us before we rape you."
The foursome's antics have created a stir in the entertainment world, leaving many daytime fans and supporters quite shocked. In fact, Entertainment Weekly reports that many irate viewers are even demanding that NATAS issue an apology for Furlan, Elizabeth, Harlow, and Rosette's behavior — and it seems not only for their inappropriate behavior, but also for their blatant lack of knowledge about the daytime industry in general.
Minutes into the live-streamed show, it was obvious that the girls didn't know much about the event they were covering. And later, Furlan publicly admitted via a behind-the-scenes video, "I don't know who any of these people are." In addition, she stated: "This is the most embarrassing thing ever. I'm just like, 'Hi. Who are you wearing?' 'Cause I have no idea who you are."
Furlan then went on to describe the red carpet from her point of view, adding that the production team promised to help her out. "They're like, 'We're gonna tell you who everyone is before they come up, and then they're like just pointing to a sheet and I'm like, ' Peter … Griffin. Hi. Nice to see you,'" she explained. "What the f–k?"
"It was clear that the hosts did not know who 90 percent of the people were," KTLA reporter Sam Rubin told The Wrap. "I think it troubling when people do not do their homework and think that 'wit' alone will do the trick.
"I believe in trying new and modern ideas," Rubin continued. "But the basic rule is that 'people know if you know.' Audiences and stars are smart and savvy; and everyone could tell within two seconds that these 'hosts' didn't know a thing about daytime television."
Rubin was right on the money, as some of the stars themselves criticized the four hosts during the broadcast. "Run away from the Red Carpet! I repeat. Avoid the Red Carpet at all costs. Save yourselves!!!" tweeted "GH" star Nancy Lee Grahn (Alexis Davis). Added "GH" star Brandon Barash (ex-Johnny Zacchara): "Hey #daytimeemmys maybe hire some red carpet 'hosts' w a little less black and rape jokes next year. These girls have the verbal runs."
Furlan subtly responded to the criticism on Monday, tweeting: "Would Alexander the Great have conquered the world if he 'dialed it back?' — Kenny Powers," and later writing: "Jokes aren't dicks, stop taking them so hard." NATAS, however, has not responded to any requests for comment.