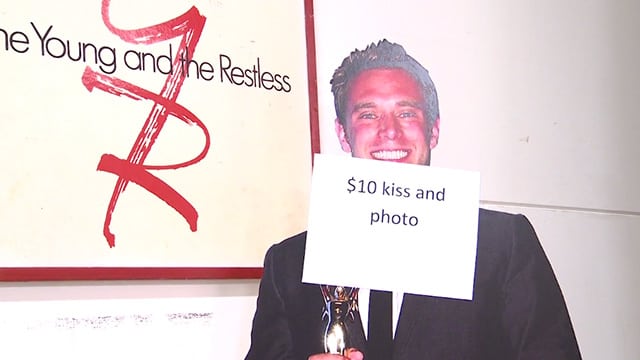 With "The Young and the Restless" losing its leading men in a one-two punch, as both Billy Miller (Billy Abbott) and Michael Muhney (Adam Newman) filmed their last scenes on Thursday, December 19, cast and crew of daytime's most watched drama series have put together video tributes to honor the departing stars.
First shown during the "Y&R" goodbye party for Miller the same day he filmed his final scenes, Greg Edwards, a production staffer, opted to publish an 11 1/2 minute video dedication on Vimeo "For everyone that either couldn't make it to the goodbye party last night or that couldn't hear it on those small speakers we had." In his message, Edwards added, "Goodbye Billy, you will be missed." The video includes several cast and crew members initially pretending to not know who Miller was, even as a life sized cut out poster of the actor holding one of his Emmy Awards roamed the halls and stages of the soap behind them. Later, co-stars Greg Rikaart (Keven Fisher), Melissa Claire Egan (Chelsea Lawson), Tracey E. Bregman (Lauren Fenmore), Christian LeBlanc (Michael Baldwin), Doug Davidson (Paul Williams), Lauralee Bell (Christine Blair), Peter Bergman (Jack Abbott), Christel Khalil (Lily Winters Ashby), Melody Thomas Scott (Nikki Newman), Amelia Heinle (Victoria Newman Abbott), and Jess Walton (Jill Abbott), along with many others, shared their most heartfelt thoughts and memories of the actor as he moves toward his next journey in life. One of the most hilarious scenes in the video was by Joshua Morrow (Nicholas Newman), who jokingly said, "Think about all your options. 'General Hospital' would love to have you. Any soap would kill to have you! There's internet, there's all these cable shows – Nickelodeon – think about it, you'd be huge like a 'Different Strokes' remake!" while the cut out of Miller attempted to commit suicide (it fell off the roof of the CBS building after hearing the things people were saying before the kind words poured in).
In response to the video, Miller stated, "Well, you got me – I'm a little teary watching this. I can't thank you all enough for the years together culminating into one amazing sendoff. I'm touched, my heart is full, and I love you all. Truly, deeply, THANK YOU."
Meanwhile, in a video honoring memories of their time together on and off set, Sharon Case (Sharon Newman) published a "Beautiful" video tribute to Muhney with music by Christina Aguilera.
Both Miller and Muhney last air on Thursday, January 30, 2014 – the first day of the all-important February sweeps ratings period. In the case of Miller, David Tom takes over the role of Billy Abbott beginning Monday, February 3. There are no plans to recast Adam Newman at this time.