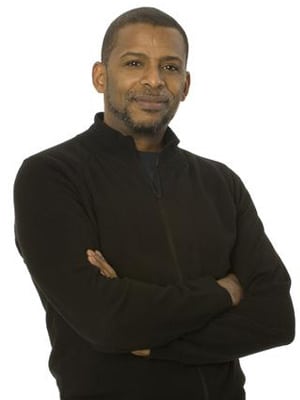 (SoapOperaNetwork.com) — Soap Opera Network has confirmed with an official Prospect Park spokesperson that Darnell Williams has reached an agreement to continue with "All My Children" for its scheduled online resurrection in 2012. This afternoon, Williams' former and future co-star, Lindsay Hartley (Cara) jumped over the production company that licensed "AMC" and "One Life to Live" earlier this year to reveal the news on Twitter. The excited actress exclaimed to fans that the popular actor "has officially signed on!! More to come." All deals between Prospect Park and performers remain tentative at the moment due to the fact that an official deal hasn't been reached between the actors' union AFTRA and the production company.
Williams originally joined the cast of "AMC" in 1981 as Jesse Hubbard, the future love of Angela Baxter's (Debbi Morgan) life. The actor remained in the role until 1988 when Jesse was killed off. Before returning to "AMC" for a second long-term gig in 2008, Williams played Jacob Foster on ABC's "Loving" and "The City" opposite his long time co-star Morgan and enjoyed a recurring gig on CBS' "Guiding Light." The 2-time Daytime Emmy winner has also appeared in a multitude of prime-time series including a recurring role on "Felicity." Before rejoining the cast of "AMC," Williams was the acting coach for the daytime drama for some time and occasionally directed an episode of the daytime drama. On an important side note, Williams' on-screen other half, Morgan, is currently starring on CBS' "The Young and the Restless."
Williams, so far, is only the third "AMC" performer to sign on to continue with the soap opera once it goes online. He joins Hartley and Cameron Mathison (Ryan). Multiple sources indicate that the sticking point for a multitude of actors, besides not being contacted in some cases, has been that the Prospect Park executives want all of their actors to sign on to 4-year contracts. After years of being misinformed and tied to the controlling atmosphere of ABC Daytime, many "AMC" actors don't appear to have a strong desire to oblige to long-term contracts.