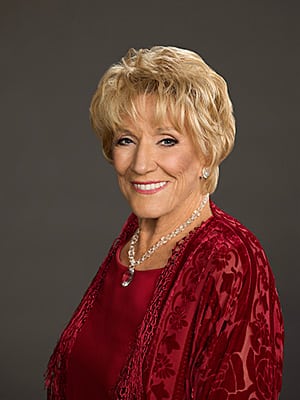 "RIP Jeanne Cooper (1911-2013) Dead," read an inappropriate tweet by tweeter @BravoMaxine, which was tweeted to twitter accounts @ebraeden @melodythomassco @victoriarowell. The tweet received a response from Victoria Rowell (ex-Drucilla Winters, "The Young and the Restless") who said, "A special lady & great Native American actress." Thankfully, we can report that Jeanne Cooper (Katherine Chancellor, "The Young and the Restless"), who was actually born in 1928, is very much alive as stated by Eric Braeden (Victor Newman, "Y&R"), "Contrary to some statement, Jeanne Cooper is doing better and sitting with her daughter Caren by her bedside!!"
Cooper, as you'll recall, has been battling an unknown medical condition that placed her back into the hospital last week Wednesday. Cooper's family released the following statement on Facebook a short time ago after the inappropriate tweet made the rounds on Twitter earlier today:
"We have been read some articles that report Jeanne as having passed away. And while it is true that she is indeed still in the hospital and undergoing care, she is still with us and we are grateful that she is. We do not yet know what the future holds, but that is the nature of life. We know that updates have been less frequent, but that is because we are focusing all of our energy on her at this time. We continue to thank you all for your love, support, and prayers. Thank you! Love to all!"
Previously, Cooper's son, Corbin Bersen, added the following messages to his Facebook page after our most recent update on Cooper's health was posted:
CORBIN BERSEN | Saturday, May 4 1:58 AM ET
Clearly from my messages you all must realize the situation, and that what I had hoped and prayed for – more time – may just end up being the brief moments I had with mom earlier this week. I asked God for time, I got it and tried to fill it with as much love and laughter as I possibly could. Sitting in a movie tonight, mildly distracted from it all, I got a call from my brother and he said we have to stop being unfair. She's struggling too much. We have to let her go. I took it in, calmly, and walked back into the theater, finished the movie – Darn good Iron Man 3. I then went back to my hotel room, where I am now and broke down, conceding any fight I had left. I don't want her in pain. I don't want her in fear. I don't want her in agony. And Jeanne Cooper, Katherine Chancellor, Wilma Jeanne is a fighter! She will kick ass as long as we let her but I know now it is only for us, not for her. I had to think back sitting in her bedroom several days ago… she pointed to several objects, paintings, telling us their "value." Not much really but SHE WANTED US TO KNOW. I think she knew she was ready then, to let go. But she needed to test us to see our reaction – My reaction! Of course I immediately said, "not ready to go there mom," demonstrating exactly what she suspected; that I wasn't ready quite yet. So she hung on. Went another round. The boxer pleasing the team in their corner.

I said goodbye to her yesterday, and even then not fully meaning it or expecting that would be the last time I saw her. But now it will have to do as we enter this weekend letting her final voyage begin. And I'm good with it, honestly. Enough to be saying it here. You all have been a tremendous ear for me, to verbalize my struggles with all of this… even now with these very words… I am good. I am good. I don't want her in pain. I don't want her in fear or agony. Along with her tremendous success she's had too much of all that in her lifetime. And she's shared much of it with all of you, candidly. So I'm giving her this weekend, take the holiday, mom, make it yours, let it take you where it will. My final words to her last night were, "I'll see you again." And I will, either here or there. Prayers please for her safe and peaceful journey. I may take a break here for a bit and stay silent in prayer and mediation for the next few days… Then again, I am my mother's son and staying quiet isn't always an option. May the light of God grace shine upon us all this weekend. Make it about love, compassion, and honesty, and in doing so you will honor my mom and the examples she has always tried to set, to this very moment.
CORBIN BERSEN | Friday, May 3 9:32 PM ET
In Vancouver, not much to report. Fun to be back at Psych with a minor distraction from the realities and frailties of life. In a bit of a fog, unsure of so many things today. Aching. Exhausted. I would only ask that you continue your prayers for my mom, she needs all of it. Don't worry about me, time will wash this one way or the other. I have an incredible wife and four amazing sons. I have a brilliant brother and sister and their children. We have a family. We will be good. So today, through the weekend, please, all your love, thoughts and prayers for my mom and peace for her. I can't help but feel there is more for her, but also am aware that perhaps this is a selfish wish on my part to have more of her in this world, to finish conversations, to make up for time that I "should have" spent. I just don't know. Please let her know in your prayers that if she wants to let go, she does so with an abundance of love giving her the wings to soar. And if she wants to remain, she does with an abundance of love giving her the support she needs to accomplish what she feels needs to be finished here, on this earth. I wish I had a joke right now, could use a good joke. Tired of sounding morbid and introspective. Maybe Iron Man 3 and my buddy Downey can help me escape. Worth a try. A little popcorn never hurt anyone.