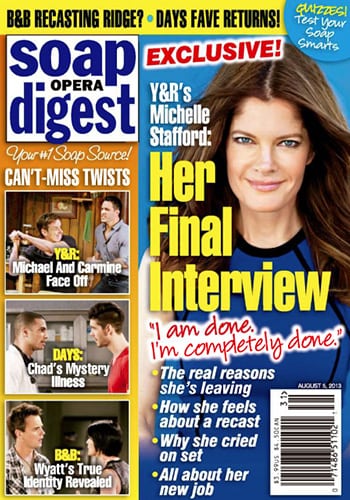 In an interview published in the newest issue of Soap Opera Digest, on sale now, "The Young and the Restless'" Michelle Stafford reveals the real reason behind her decision to exit the top rated daytime drama series after 15 years portraying the role of Phyllis Summers, whether the powers that be (TPTB) ever tried to change her mind and her thoughts on the soap possibly recasting the character.
"There were other things that I really wanted to do. And the way that the show runs right now, the climate of daytime, the producers, the company, isn't so apt to be as accommodating with other projects. I don't say that as a criticism; as a producer, I'd do the same. And recently, probably at the end of last year, I was considering it seriously. I think it coincided with my sister getting sick in September, and being a mother, and really thinking about life, the future and other things that I wanted to create," says Stafford on why she decided to leave the show. "There were a lot of personal reasons that I just think are not important to share with the world. Only my good friends should know."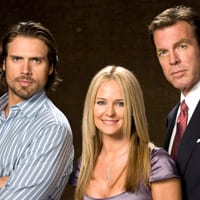 While the door has been left open for a return to the soap by Angelica McDaniel, Senior Vice President, CBS Daytime, who told Soap Opera Network in June, "We wish her the best, and hopefully, as I've told her… she'll be back!" Stafford is expected to exit sometime next week with fans wondering about Phyllis' fate after she took a tumble on last weeks episodes courtesy of Sharon Newman (Sharon Case), who is trying to keep her age-old secret  – the one in which its revealed that she's the one who changed the paternity results involving Summer Newman (Hunter King) and her two possible daddies Nicholas Newman (Joshua Morrow) and Jack Abbott (Peter Bergman). In the end, Nicholas is still the true father…but Sharon didn't want anyone else to find out her role in the switch that wasn't and would do anything to keep the secret still a secret.
In response to McDaniel, Stafford says, "Never say never" about not just a possible return to "Y&R," but other soaps as well. "…the reason I say, 'Never say never' about other soaps is because soaps are great. They are amazing. But right now, this is what I want to do. I don't want to diss anybody who has any desire to employ me." As for whether anyone at the show tried to stop her from leaving, she says, "No. No one tried to make me stay, but in their defense, I was pretty definite about going. And I did it so there wouldn't be any drama, so that they knew I wasn't going to play a negotiation game. I really care for everyone at the show. I established long-lasting relationships with them. And I wanted it to be all above-board. So I think they knew I was serious."
For more from Stafford's interview with Digest, pick up a copy on newsstands now.