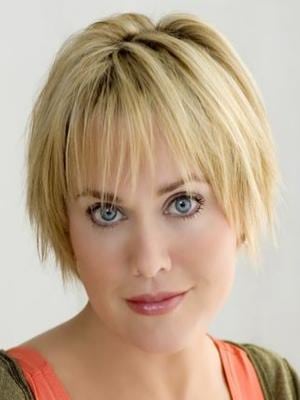 (SoapOperaNetwork.com) — Tonja Walker brings popular villainess Alex Olanov back to "One Life to Live" for four episodes that began on Thursday, November 17, when it was revealed that she has a shocking connection to another Llanview resident, Cutter Wentworth (Josh Kelly). Walker's other airdates include November 18, 21, and 22.
via Press Release
FAN FAVORITE TONJA WALKER DAVIDSON TO RETURN TO ABC DAYTIME'S "ONE LIFE TO LIVE" IN NOVEMBER

Fan favorite Tonja Walker Davidson will return to play the character fans love to hate, Alex Olanov on ABC's "One Life to Live" on NOVEMBER 17. Ms. Davidson received a Daytime Emmy® Award nomination for the role of Alex Olanov which she originated in 1990 and played until 1997. She was last seen as Alex in March of this year.

"For years I have been asked to bring the notorious Alex Olanov back to 'One Life to Live," where she usually finds herself in the middle of a sinister plot," said Ms. Davidson. "I relish the opportunity to bring Alex back to OLTL with surprises that even shocked me."

Currently, Ms. Davidson hosts her own radio show, Straight Talk Live! With Tonja Walker in Fairfield, CT. She has also just starred in two indie films due out in 2012, Excuse Me for Living with Wayne Knight, Jerry Stiller and Christopher Lloyd, and My Dog the Space Traveler, with Chris Lemmon. Some of her other enterprises include becoming a National Internet Safety Advocate thru non-profit Project Love®/Purple America® and uKnowKids™. Project love is a non-profit character education organization that empowers children to examine their choices, and learn how their choices impact others. Tonja's tenacity and talent have served her well and continue to do so as she rounds things up at OLTL for its eminent farewell.

Following her time on OLTL, created the Tonja Walker's Professional Performing Arts Studio as well as forming Tonja Walker Productions in 2005 which has successfully produced feature films. Her other ventures include writing children's books, creating TV shows, starring in numerous pilots for TV, mini-series, film, starring in a one woman show in NY, LA and Vegas and Associate Producing for the Tony nominated play Enchanted April. Her talents and ambitions have reached far and wide as she has also taken on the role of being Miss Maryland in the Miss USA pageant and has gone on to tour the country as an opening act for national recording artists.

Married to Cleveland entrepreneur Edward Davidson since 1997, Ms. Davidson is the proud mother of two beautiful girls and three step-children.

Emmy Award-winning "One Life to Live," created by Agnes Nixon, was launched July 15, 1968. Frank Valentini executive-produces. Ron Carlivati is the headwriter. The popular drama consistently ranks among the top five in the key demographic of Women 18-49. "One Life to Live" airs MONDAY-FRIDAY (2:00 p.m., ET), on the ABC Television Network.