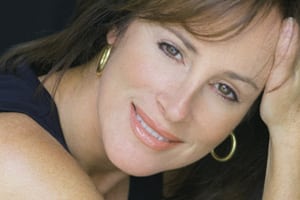 (SoapOperaNetwork.com) — With nine of her co-stars already signed on to continue with "One Life to Live" when it moves to online production with Prospect Park early next year, fans have been wondering if Hillary B. Smith (Nora) might follow suit. However, the "One Life" vet notes that "things are up in the air" regarding her future with the soap.
In a new interview with TheaterMania, Smith, who will be appearing on stage in Bruce Graham's "Any Given Monday" beginning Thursday, October 6, talks about the show and teases about what is coming up for Bo and Nora.
"I can say that Nora and Bo (played by Robert S. Woods) will be leaving together when we stop taping on ABC, and that makes me very happy. As for the online venture, I am very excited that the show's fans will have another venue, and I am sorry for ABC that they made this decision. But I don't know what's in store for me after Thanksgiving, when I stop shooting 'One Life.' Things are up in the air."
As for what is next for Smith, the actress laments that "I am continuing to work on this Internet series, 'Venice,' which shoots in Los Angeles. I would love to do more stage work. And I have to admit it's both liberating and scary not to know what's next. Like a lot of actors, I actually love change and love reinventing myself."
Click here to read the full interview, including Smith's thoughts on how the character of Nora has changed since she joined the show in 1992.