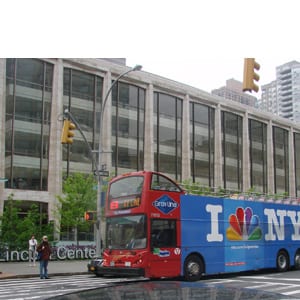 Long before ABC's Upfront presentation got underway at around 3:45 PM on Tuesday, May 17, when invited guests began scuttling into the Avery Fisher Hall, the National Broadcasting Company (NBC) looked to take attention off of the American Broadcasting Company (ABC) by promoting its new fall programming with a rotation of more than a dozen Grayline and CitySearch NYC buses that were filled with wide open spaces or a lack of passengers in this case. While the seats may have been empty, no one could miss the colorful brand making its presence known while its competitor seeks a piece of the $9.2 billion pie during a crucial television season that lies ahead for the Disney/ABC Television Group. Insert the NBC peacock now featured on billboards in newly stylized glossy graphics.
With Disney/ABC having their hands full with protesting soap fans across the street from Lincoln Center, the media division of the Walt Disney Company probably didn't expect to be faced with another headache courtesy of rival NBC. The fourth place network bought extensive advertising on over a dozen New York City sight seeing buses that were ordered to drive around Lincoln Center in a continuous rotation for more than three hours as ABC took center stage during this busy upfront week. NBC and FOX had their go on Monday, May 16 with CBS following on Wednesday, May 18.
While stopped at a red light, a driver from one of the bus lines was overheard saying "NBC bought the ads in order to bug the heck out of ABC." Soap fans were quick to note NBC's ploy and began chanting "save our soaps NBC," which some hope will eventually pick up the canceled soaps now that ABC has made it clear they would be willing to entertain a licensing deal or full-on sale of the canceled programs to another entertainment company. The network does not expect an offer, however, according to TV Guide Magazine's Michael Logan.