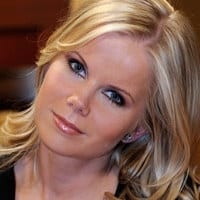 Just when you thought you'd seen soap star Crystal Hunt in the most outlandish situations ever (in her roles as stripper Stacy Morasco on "One Life to Live" and bratty diva Lizzie Spaulding on "Guiding Light"), she goes and pulls a real-life stunt that outshines any of her previous onscreen shenanigans: She reportedly smashed glass in a woman's face during a soap-topping bar brawl!
TMZ reports that on the evening of Friday, December 13, the Florida native had a heated bar room showdown with a woman in Pearl's Liquor Bar in West Hollywood, where she allegedly threw a pint glass at the victim's face. The result: Hunt was arrested for Felony Assault with a Deadly Weapon.
The actress' lawyer, Shepard Kopp, tells TMZ that Hunt was not drinking at the time and claims that because the woman had threatened her, she was merely acting in self-defense.