Monday, July 20, 2009 12:08 AM ET | By Venus Stone

---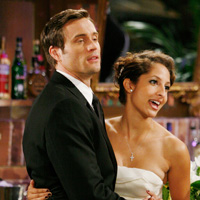 (SoapOperaNetwork.com) — Much needed support…
THIS WEEK ON: THE YOUNG AND THE RESTLESS
Billy stuns Phillip when he admits he understands why he did what he did, Monday, July 20. That same day, Chloe and Jill decide to throw a party for Billy's birthday, but he's a no-show. Phillip and Nina discuss how 'Chance' will take the news of his being gay. Daniel sets his sights on getting even, Wednesday, July 22. Billy and Mac get all heated, Friday, July 24.
The Inside Story: Heartbreak and Devastation
After learning the news that she could have cancer, Lily longs for Cane to be by her side. Shortly before the test results are given to Olivia, Colleen pays a visit to her best friend and Lily opens up to her about what has happened. She admits that she truly misses Cane and just needs him to be there for her. As the two girls are talking, Olivia is outside with the test results. Neil and Devon know instantly that it is not good news The three enter her room and Olivia gives Lily the news; telling her that they do have a course of action to treat her cancer. She points out however, that even with the treatment, and survival of the disease, she most likely will have to lose her reporductive organs. In the meantime, Colleen finds Billy and Mac and tells them about Lily's health. She instantly asks Billy to go find Cane for Lily's sake, but Billy point blank refuses to do so. Knowing that Lily needs him with her, Mac offers to go in search of him and soon locates him at the bus station set to leave Genoa City. Mac stops him by letting him know he needs to forget about leaving town and get to Lily because she needs him. Cane doesn't believe that and tells Mac that there is nothing for him in Genoa City after all that has happened. Frustrated at his refusal to come with her Mac blurts out that Lily has been diagnosed with cancer and is at the hospital. Cane, floored by the news listens to Mac's advice to stay in town, even offering him the trailer she and Billy have been shacking up in. She soon tells him that he needs to get to the hospital to see Lily, but he tells her that it might not be in her, or her family's best interest to show his face, but requests her to do something for him. At the hospital, Neil decides his place is with his daughter and he decides to step down as CEO of Chancellor Industries. Later that evening, Mac comes to see Lily with a laptop and DVDs of Lily's greatest movies, not letting on that Cane was behind the whole thing. Mac heads back to the trailer to give Cane the news about Lily's surgery and heads out; missing Billy by a few minutes. When Billy arrives and finds Cane stepping out of the shower, he's livid and full of his own conclusions to why he's there. Before Cane can explain, he throws him out. In the meantime, Olivia and Neil are tryinig to convince a stubborn Lily to go forward with the surgery that is lined up but she wants to harvest her eggs. Olivia and Neil's stepping out of the room gives Lily enough time to split the hospital in search for Cane. She find herself at Jimmy's where Mac and Billy are in a heated arguement about Cane. When she hears Billy slamming Cane telling Mac that Lily is better off without him, Lily pleads with him that she really needs him and Billy relents to go find Cane.
A Closer Look: Double-Crossed
Wanting to remain in the Newman house, Adam decides to step up his game to make sure he stays put. Realizing that Mary Jane could blow him out of the water for gas lighting Ashley. Adam, upon learning that Victor has his mind made up to ship him off to a halfway house, heads to warn Mary Jane that Victor is calling the police to have her arrested. A scared Mary Jane flees and while she's on the run, Adam has his ankle monitor set off, alerting the police. One Detective Wallace shows up at the Newman ranch, Adam quickly lies, telling him that he was chasing after a woman that resembled Mary Jane. Ashley thanks Adam for trying to 'stop' Mary Jane and when Det. Wallace finds Mary Jane's belongings, Victor detaches himself from any connection to the woman. Swallowing his pride, Victor tells Adam that he can stay put, which pleases Adam.
What To Watch
Jill updates her will to include Billy, Cane and Phillip
Amber gives Daniel a warning about Deacon but he blows her off
The Young and the Restless News and Headlines
JMelody Thomas Scott ("Nikki Newman") will be staying with the show after some serious negotiations. Thomas, who's played in the role since 1979, will take a short scripted leave some time in August
Chris Engen (ex "Adam Wilson") is featured in the current issue of Soap Opera Digest for Performer of the Week. The article focuses on his last episodes on the show.
Actress Vail Bloom, who plays legal eagle 'Heather Stevens' will make an appearance on the hit HBO series 'Entorage' Sunday, July 26.
Congratulations are in order for onscreen and offscreen married couple Thad Luckinbill, 'JT Helstrom' and Amelia Heinle, 'Victoria Newman Helstrom' who are expecting another addition into their family. Word is that the couple will be welcoming a baby girl this time around.
SON Top 10: Who was the best of the best on "Y&R" during the week of July 13, 2009? You decide! The SON Top 10 is back! Voting begins Friday's at 4:00 PM, EST.
SON ALERTS: WEEK OF JULY 27, 2009
Daniel is furious regarding Amber's betrayal
ANick gives Phyllis a surprise
Victoria has a choice to make
"The Young and the Restless" airs Weekdays on CBS. Weeknights on SOAPnet. Check local listings .
---
Discussion: Y&R PreVUE: Week of July 20 Edition
---