Wednesday, June 3, 2009 11:45 PM ET |
By Errol Lewis
---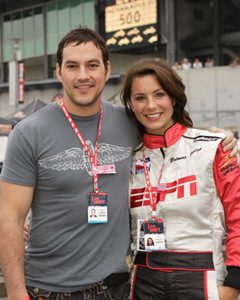 (SoapOperaNetwork.com) — Last month Soap Opera Network asked readers like you to send us your questions for Tyler Christopher. He responded and now he has his first sit down interview with Soap Opera Network, and delves deeper into the role that helped define him into the man that he is today.
Tyler Christopher has been portraying the role of Nikolas Cassadine on ABC's "General Hospital" off-and-on since joining the cast in July 1996. He has been nominated for three Daytime Emmy Awards. He married the love of his life, Brienne Pedigo, in 2008 and is expecting his first child in 2009. Christopher and Pedigo were married on September 27, 2008 and their son (yes, it's a boy!) is due on October 1, 2009. So what's real-life been like for the expecting family man?
"Life is great in our home. We're both very excited [and anxious] to begin the next chapter in our lives."
Outside of his work on "General Hospital," Tyler is actively involved with the 68 Cent Crew Theatre, which he co-founded with close friend Ronnie Marmo in 2002. The theatre, now in its seventh year, holds an annual Fundraiser during the "General Hospital" Fan Club Weekend in which fans can enjoy an "evening of fun, laughter, drinks and great food," while in the company of their favorite "GH" star and his cohorts from the theatre company. This year the event moves to the Airtel Plaza Hotel in Van Nuys, California. The event takes place on Friday, July 17 from 8:00 PM to 11:00 PM. Last year, fans got the chance to attend a special screening of "Stage 4," a scripted "reality" show in which a group of people from a Hollywood theater company come together to hone their craft. "Stage 4" also starred Christopher's "GH" co-star Kimberly McCullough (Dr. Robin Scorpio Drake), the aforementioned Marmo and "Beverly Hills, 90210" icon Brian Austin Green (ex-David Silver). There were hopes that the idea could launch into a series of episodes either on TV or via the internet, but "times are tough to sell a show right now," says Christopher. "I thought it was very clever and funny and hope it finds a home somewhere."
Nikolas Cassadine was engaged to be married to reel-life love Emily Bowen-Quartermaine (Natalia Livingston). Unfortunately for Nikolas, in November 2007, Emily was savagely murdered by Diego Alcazar (Ignacio Serrichio), but now Nikolas is seeing "Emily" at every turn. Could it be? Is Emily really alive? Sadly, no. Nikolas is seeing Emily's twin sister, Rebecca, who raised eyebrows in January 2009 when portrayer Natalia Livingston made her much anticipated return to the drama series as the newly created character. Since then the two have toyed around with a possible romance, but family matters are getting in their way – namely Nikolas' Aunt Alexis Davis (Nancy Lee Grahn), who is suspicious of Rebecca and her intentions, and his Grandmother Helena Cassadine (Constance Towers), who shares words with Rebecca on the Thursday, June 4 episode of "GH. The question is, will we be treated to more Helena or is her time about up in Port Charles? "Every show needs a Helena," says Tyler. "I think she will always be around."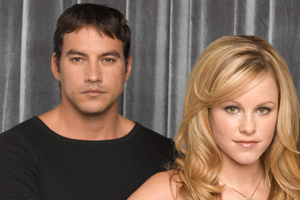 Character Traits
Can a guy truly have his world literally crumble before him and still manage to keep himself grounded without changing his demeanor just a little? Reader PocketofRosies wanted to know if we'll be seeing a darker side to Nikolas now, as per rumors, as she is partial to the "bad guys."
"On a soap you can't be one way all the time or the character becomes boring. When you're on five days a week, I believe you have to show different sides of a characters personality. He was dark for so long that I and the writers felt we needed to add a little color into Nikolas." That color included adding a son with former flame Courtney Matthews (portrayed by Alicia Leigh Willis), who died in 2006. Speaking of his son, how would the dynamics change if the show aged Spencer a year from now and Nikolas had to now deal with a pre-teen Cassadine? "We had difficulty casting Spencer, so I believe that's why you haven't seen him as of late. As for the future for him, I just don't have the answer for that."
In October 2005, Julie Berman joined the cast as an older Lulu Spencer, Nikolas' younger sister, and Golnaz Vayghan wanted to know what it is like working with Berman, who is considered one of daytime's finest young actresses.
"You're only as good as your partner in a scene. And with Julie you get nothing less than a display of fine acting. I tend to put little ad-libs in occasionally and she picks right up on them, the result is a scene that is natural and organic."
Genie Francis portrayed Laura Spencer, Nikolas and Lulu's mother, off-and-on for over thirty years, but it seems like Laura is more off than on. Any chance she'll finally make Port Charles her TV home once more? "I would always welcome a Genie Francis return. I've always said that she was someone I looked up to when I first started my career on 'General Hospital.' It's always disappointing when she leaves," said Christopher.
Since last appearing on screen together in May 2008, when Emily's "ghost" finally said goodbye to her prince, fans can't help but wonder what exactly sets Rebecca/Nikolas apart from Emily/Nikolas. "I think Rebecca/Nikolas have a more sexually explosive relationship vs. a more sensual one between Emily/Nikolas," says Christopher. "At least at this point in the story."
Where might the two be heading storyline wise? Christopher answers the question sent in by Soap Opera Network reader Sophia Malone: "As long as the dynamic between the two characters are different than that of Emily and Nikolas', I'm okay with whatever they give me."
In April – April Fool's day at that – the daytime industry woke up to the news that CBS had cancelled "Guiding Light" after 72 years of broadcasting on radio and television. Does the cast of "General Hospital" feel pressured when the ratings reports come out each week?
"Times are tough. A lot of people are worried as to the fate of daytime. My hope is that 'GH' has solidified its mark on daytime immortality, but these days anything can happen," Christopher responded.
For more information on the 68 Cent Crew Theatre Company Fundrasier or to buy tickets to the event, head on over to TylerChristopher.com. Tickets are priced at $65 per person.
"General Hospital" airs Weekdays on ABC. Weeknights on SOAPnet. Check local listings.
---
Discussion: InSession with Tyler Christopher

---
General Hospital
Natalia Livingston
Tyler Christopher
Genie Francis
Julie Berman
Nancy Lee Grahn
Constance Towers