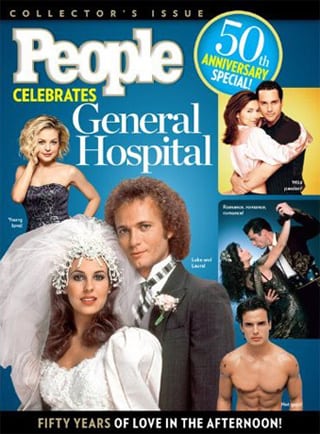 The last time People Magazine offerred a collector's edition of a soap opera was in September 2011, when the mag celebrated the life and history of the then canceled "All My Children." This time the magazine is celebrating the continued life and history of "General Hospital" with a special 50th Anniversary collector's edition that finds Luke and Laura Spencer (Anthony Geary and Genie Francis), Maxie Jones (Kirsten Storms), Sonny Corinthos and Brenda Barrett (Maurice Benard and Vanessa Marcil), Duke Lavery and Anna Devane (Ian Buchanan and Finola Highes), and Jagger Cates (Antonio Sabato Jr.) gracing the cover.
Publisher Description
Celebrate the 50th anniversary of "General Hospital," the longest running scripted television drama currently in production. Reminisce with the Quartermaines and Spencers, the famed residents of fictional Port Charles, New York. Learn about the troubled marriages of the Hardys and Brewers during the show's early days in 1963. Revisit the wedding of Luke and Laura in 1981, the most watched event in daytime television history. Relive BJ's ultimate sacrifice, Emily's untimely end, and the tragic teen lives of Stone and Robin. It's all there in words and pictures: the stars, the storylines, and the pictures-behind-the-scenes and in front of the camera. No wonder Princess Diana and Liz Taylor counted themselves among the millions of loyal "General Hospital" fans.
The "General Hospital" 50th Anniversary special collector's edition goes on sale on Tuesday, March 12, 2013. You can pre-order your copy at Amazon.com now at the current reduced price of $13.57. The regular sales price is $19.95.