Wednesday, January 14, 2009 8:00 PM ET |
By Errol Lewis
---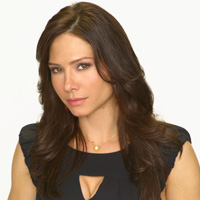 (SoapOperaNetwork.com) — Temptation leads to discoveries. Lives are stuck in time.
THIS WEEK ON: GENERAL HOSPITAL
Lulu asks Carly to hire Johnny at the Metro Court. Maxie and Spinelli find Johnny working at Jake's as a janitor. Maxie is suspicious of Lulu's reasonings for being with Johnny – "Lulu, are you trying to emulate Luke and Laura? Is that why you are with Johnny?" Nikolas informs Olivia that he doesn't want Spoon Island re-constructed as it holds so many fond memories of his life with Emily. Robin admits to Patrick that Matt reminds her so much of him from when they first met. Carly wishes Sonny and Jason would mend fences. Matt flirts with Rebecca, who is a dead ringer for Emily on Wednesday, January 20. Carly has an invitation for Robin. Jason is worried about Carly. Nikolas and Jason are questioned by Patrick. Nikolas pays his respects to Monica on Emily's birthday.
The Inside Story: A Corinthos Affair
Claudia makes it clear to Sonny that he is on the verge of losing everything that he's worked hard to achieve unless he does what Anthony tells him to. Afterward, Claudia plans on seducing Ric in an effort to find out what he's been up to with her father. Meanwhile, Sonny is looming nearby while Claudia and Ric enjoy their intimate moment. Will Sonny catch Claudia in a lie or does fate hold all the cards? Claudia puts the pressure on Anthony. Sonny leaves Kate with a promise. Olivia warns Sonny to stay away from Kate or else.
A Closer Look: Reunited Acquaintances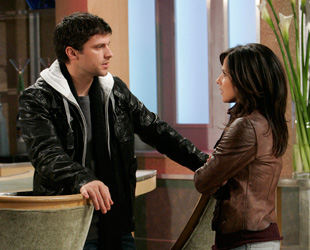 Sam and Jason are back in good graces, and this week the two work even closer than ever to bring down the Zacchara organization. On Monday, January 19, Sam informs Jason of her plans to infiltrate Anthony's inner circle in her quest to help Jason and Spinelli. Jason, however, is not completely sold on the idea and warns her to be careful. Later, Sam meets up with a concerned Ric, who informs Jason that life isn't as safe with Sonny around as he thinks. Spinelli's self esteem is on the verge of crippling when he learns that Sam is also trying to protect him. He later tries to hack into the FBI database in order to find out what Jason did to keep him out of harms way, temporarily. Later, Spinelli has an offer that Agent Rayner might not refuse.
What To Watch
Patrick recalls the events leading up to the mysterious catastrophe at the hospital on Monday, January 19.
Anthony warns Johnny about the consequences that life brings on Wednesday, January 21.
Patrick realizes there's a disaster in the making at the hospital on Thursday, January 22.
Patrick races to avert a catastrophe at the hospital on

Friday, January 23

.
General Hospital News and Headlines
"GH" will be pre-empted on Tuesday, January 20 due to Inauguration coverage on ABC.
SON Top 10: Who was the best of the best on "GH" during the week of January 12 – 16, 2009?  You decide! The SON Top 10 is back! Voting begins Friday's at 4:00 PM, EST.
SON ALERTS: WEEK OF JANUARY 26, 2009
Monday: Claudia and Anthony hold their cards close to the vest. Many lives are in peril as events are set in motion. Lucky wants to know what's going on between Jason and Sam.
Tuesday: Spinelli has Jason's back. Lucky and Sam call it quits. Claudia fears Sonny is getting too close.
Wednesday: Kate learns exactly what Claudia has been hiding. Patrick is unable to stop a tragedy from happening. Nikolas thinks his eyes are playing tricks on him.
Thursday: Kate holds her ground with Claudia. Elizabeth's life hangs in the balance. Robin continues to grow more and more depressed.
Friday: Claudia gets ready to throw down her cards. Nikolas thinks his tumor has returned. Lives are in danger at the hospital as the time warp continues.
"General Hospital" airs Weekdays on ABC. Weeknights on SOAPnet. Check local listings.
---
Discussion: GH PreVUE: Week of January 19 Edition
---