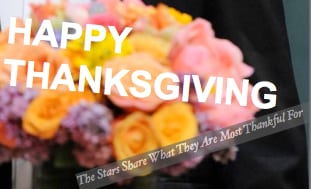 The rest of the country may have been preparing for Thanksgiving by sending out dinner invites, planning menus, buying turkeys, selecting table settings and betting on the day's big game, but Soap Opera Network has been getting ready for the celebratory day in a different way: Reaching out to several of your favorite "Days of our Lives" stars and getting the scoop on what they're most thankful for! Read on for their answers and then join in on the fun by leaving a comment below telling us what you're most grateful for this holiday season!
Deep down in the basement of NBC's The Burbank Studios in Los Angeles, beneath the busy and hectic world of "Days of our Lives'" Salem, lies a cozy dressing room that offers a warm and comfortable respite from cameras, producers, directors, publicists, wardrobe and all of the other distractions of a daytime television set. The lighting is low, candles flicker, and there's a plush, body-hugging beanbag that just begs any visitor to sit back, sink in and possibly take one of the best naps of all time. We at Soap Opera Network could have fallen into the beckoning trap, but the dressing room's owner, Shawn Christian (Daniel Jonas), was way too excited to discuss his current storyline and his new television project, "Addicts Anonymous," to allow any snoozing to happen. And as soon as the passionate actor launched into conversation, there was no desire for napping on our part, either! Read on for the exciting details Christian shared. But be warned: You'll be on the edge of your seats (or, if you're lucky, your beanbags).
On Thursday, October 17, several LGBT (Lesbian, Gay, Bisexual, Transgender) organizations and individuals celebrated Spirit Day, which asks people to take a stand against bullying and show support for LGBT youth by wearing the color purple. NBC's "Days of our Lives" took a stand and showed its support as cast members donned purple shirts, jackets and even ties.
Those taking part included James Reynolds, Kate Mansi, Casey Moss, Lauren Koslow, Eric Martsolf, Chrishell Stause, Deidre Hall, Meredith Scott Lynn, Galen Gering, Greg Vaughan, Arianne Zucker, Kristian Alfonoso, Camila Banus, Freddie Smith and "DAYS" newcomer, Guy Wilson.
For more on Spirit Day and on how you can take a stand to support LGBT youth, visit glaad.org.
Daytime newcomer Casey Moss has joined the cast of NBC's "Days of our Lives," per a tweet by Salem newbie Jen Lilley. In her tweet, the actress said, "Oh snap! My hott co-star joined Twitter! Be sure to follow @1CaseyMoss and watch his first episode of #Days Friday!" The tweet was accompanied by an image of the two in the "DAYS" hair and makeup room hugging. Moss thanked Lilley with a tweet back that said, "Thanks Jen! I appreciate it!"