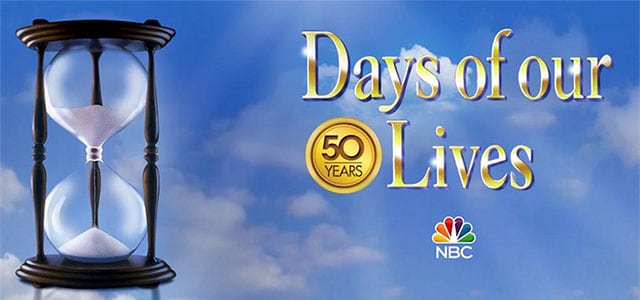 "Days of our Lives" doesn't have to roll out its own red carpet for its upcoming 50th anniversary — the Hollywood Christmas Parade is doing it, instead! The grand holiday event will be honoring the long-running NBC soap opera with a special commemoration on Sunday, November 30!
Several "Days of our Lives" stars will make their way down the parade in an eye-catching presentation featuring the show's new 50th anniversary logo as they kick off 50 years on air. The cast — which includes Deidre Hall (Marlena), Kristian Alfonso (Hope), Suzanne Rogers (Maggie), Galen Gering (Rafe), Lauren Koslow (Kate), Peggy McCay (Caroline), Joseph Mascolo (Stefano), Greg Vaughan (Eric), Bill Hayes (Doug), Susan Seaforth-Hayes (Julie), John Aniston (Victor), Shawn Christian (Daniel), Arianne Zucker (Nicole), Eric Martsolf (Brady), Kate Mansi (Abigail), Guy Wilson (Will), True O'Brien (Paige), Drake Hogestyn (John), Jen Lilley (Theresa), Mary Beth Evans (Kayla), Bryan Dattilo (Lucas), Casey Moss (J.J.), Billy Flynn (Chad), Molly Burnett (Melanie), Meredith Scott Lynn (Anne), Aloma Wright (Maxine), and Christopher Sean (Paul) — will then be greeted by the parade hosts (Laura McKenzie and Erik Estrada) and presented a special honor to commemorate the many successes of the Emmy Award winning show.
Says co-executive producer Greg Meng: "What better way to start the countdown to 'Days of our Lives" 50th anniversary on NBC than to be part of the iconic Hollywood Christmas Parade? We look forward to celebrating this holiday season with viewers across the country," said Days of our LivesCo-Executive Producer Greg Meng."
Jim Romanovich, President of Worldwide Media for Associated Television International, stated, "'Days of our Lives' is an incredible success story and has been such an influential show to audiences over the years. It is, and continues to be, the cornerstone of NBC daytime programming. As fans of the show, we are thrilled to give them the tribute they deserve in this prestigious event."
The Hollywood Christmas Parade will take place on Sunday, November 30 with television broadcast times of Wednesday, December 10 at 4PM on Hallmark Channel and Friday, December 19 at 5PM on Hallmark Movie Channel. For additional broadcast dates and times, check your local listings. And for more information on the parade, check out the event's official website!
Editor's Note: An earlier version of this article did not include the correct logo that it refers to. We have since corrected the logo, which includes the iconic hourglass that the show is best known for. We apologize for any confusion this may have caused.