Nearly four years since launching a Kickstarter campaign to fund a pilot episode of "The Rich and the Ruthless," loosely based on her novels "Secrets of a Soap Opera Diva" and "The Young and the Ruthless," actress Victoria Rowell (ex-Drucilla Winters, "The Young and the Restless") will finally see her vision come to life as a six-part scripted comedy series courtesy of Urban Movie Channel, an urban-focused subscription streaming service created by Black Entertainment Television founder Robert L. Johnson.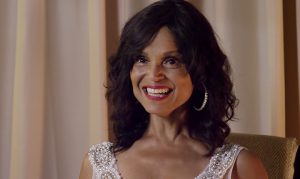 "The Rich and the Ruthless" stars Richard Brooks ("Being Mary Jane") as Augustus Barringer, creator of a struggling soap opera forced to move production from Los Angeles to Montego Bay, Jamaica. Rowell, who also executive produces and directs the series, portrays his wife, Katherine, a former soap opera queen ready to secure her place among the soap world's elite once more following multiple stints in rehab. Former "Y&R" star Brenda Epperson (ex-Ashley Abbott) portrays a network executive who wants to take over reins of the struggling production as it forges ahead in a new locale.
The series also stars Aleesha Renee, Mykel Shannon Jenkins (ex-Detective Charlie Baker, "The Bold and the Beautiful"), Starletta DuPois ("Knots Landing," "St. Elsewhere"), Michael Colyar ("Martin," "Barbershop: The Series"), Carlo Mendez (ex-Officer Benji Ramos, "The Bay: The Series"), Chrystale Wilson ("The Players Club"), Hunter Bodine ("The Shield"). Elizabeth Carlisle, Shadoe Stevens ("The Late Late Show With Craig Ferguson") and Irene Roseen ("Wedding Crashers"), among many others.
According to Daytime Confidential's Jamey Giddens, who also co-wrote the series, "The Rich and the Ruthless" will hit the streaming platform sometime later this month.
"Rowell and I co-wrote the 6-part scripted comedy series which will air on the platform this July. Loosely based on Rowell's novels 'Secrets of a Soap Opera Diva' and 'The Young & The Ruthless: Back in The Bubbles,' 'The Rich & The Ruthless' is the comedic saga of daytime's only black-owned-and-operated soap opera," wrote Giddens in announcing the news.
Urban Movie Channel is available online at UMC.TV.
UPDATE 7/4/17 at 5:40 PM ET: According to a post on Daytime Confidential by Jamey Giddens, UMC has set Friday, July 21 as the launch date for "The Rich and the Ruthless." The series will launch as a six-part half-hour comedy.