After five weeks of eliminations and heartbreak, "The Price is Right" narrowed its next male model search down to three – Jonathan Morgan, Jay Byars and James O'Halloran – when the finalists appeared on the Monday, December 1 edition of CBS' "The Talk." After the reveal, America began voting for who they felt best fit the brand of the game show when the polls opened via priceisright.com/nextpricemodel. Polls closed on Friday, December 5. Today, December 8, the game show revealed who would finally take home the prize of becoming the next male model on "The Price is Right," which entails a week-long modeling gig beginning Monday, December 15. So who did America choose?
READ ALSO: EXCLUSIVE: 'DAYS' Star Robert Scott Wilson Talks 'Price is Right' Male Model Search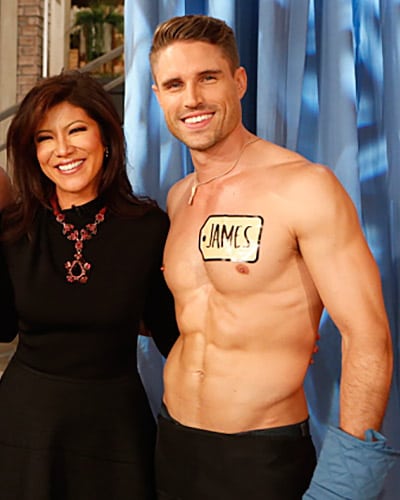 When all was said and done James O'Halloran, 30, an Australian that will have audiences swooning just from hearing him utter a few words, will strut his stuff and model the latest and greatest products on CBS' "The Price is Right" from Monday, December 15 thru Friday, December 19, but before beginning the gig O'Halloran got to model an elliptical after being introduced for the first time by host Drew Carey. Also appearing in today's episode was "The Young and the Restless'" Melissa Ordway (Abby Newman), who helped judge the fifth episode of the male model competition. Ordway appeared as a celebrity model.
READ ALSO: EXCLUSIVE: Which Guy Is Right For 'The Price Is Right?' EP Mike Richards Reveals the Secrets Behind the Game Show's Male Model Search and Its Soap Opera Crossover!
In case you missed O'Halloran during the competition, you can watch a sample of his work below and even watch him sing a song in anticipation of his winning.
Watch O'Halloran in Action

Watch O'Halloran sing an original song

Congratulations, James!