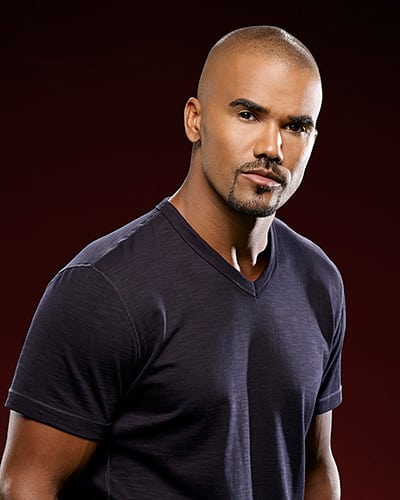 Get ready to drop it like it's hot, because "The Young and the Restless'" Shemar Moore was in the house (Neil's house, specifically) to talk about his upcoming return as Malcolm Winters — and the heat really is too much to handle! From stepping back into Genoa City, to reuniting with his daytime counterparts, to details regarding the new season of his hit primetime series, "Criminal Minds," the actor spilled every fiery little detail. So read on… if you dare!
It's no surprise to viewers that "Y&R" would roll out the red carpet for the exciting return of Shemar Moore, who wowed audiences as the little brother of Neil (Kristoff St. John) from 1994 to 2005. But it was a surprise to Moore himself, who was taken off guard by the exceptionally warm welcome he received upon entering the CBS studio where "Y&R" films. "I was somebody for one day; I even got an ovation when I walked on here!" he shares. "I didn't get that in 10 years of me being on this show. That was nice."
Although, it's possible that the crew was giving applause over the simple fact of him showing up, considering he almost accidentally went to another studio altogether! "I was driving down the 101 South, and… just out of habit, I was merging to the 134 to go to my day job [at 'Criminal Minds], and I had to go, 'Oh, no, no, no! I go here!'" he says with a laugh. "And then in that moment, I was like, 'Holy smokes, I'm going to be on 'The Young and the Restless.'"
READ ALSO: PROMO: What You Gotta Do is Give Me MOORE on 'Y&R'
A mixture of nerves and excitement and nostalgia set in, and he thought, "Wow, what's this going to be like?" But the hesitation quickly disappeared. "Just pulling up and walking into the building and seeing 'The Price Is Right' wheel, everything is the same!" he exclaims. "It's eerie, like 'The Twilight Zone,' because it doesn't feel like so much time has passed. I literally am home; this is where it all began for me."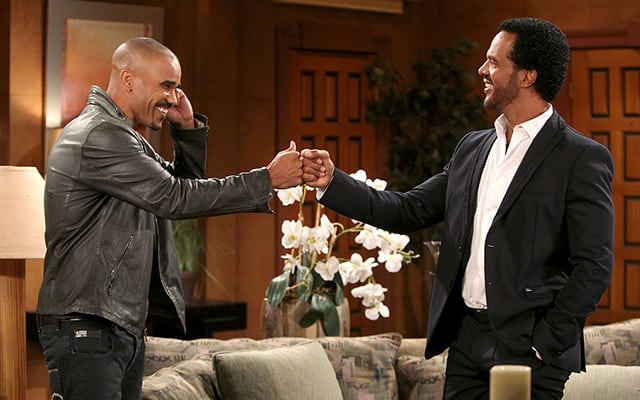 One thing that the California native was certain would run smooth was reuniting with his former co-stars. "I wasn't worried about meeting Kristoff and Christel [Khalil, Lily Winters] and Bryton [James, Devon Hamilton], just because I know we're going to dance like we always did," he explains, adding that working with St. John was particularly easy. "Not only did we knock it out, he and I, but it's seamless, just because we have the history. There is the trust, the brotherhood… So [it] was just fun to play. And once we got, it took us about two or three takes to find our rhythm, and then it felt like yesterday that I was just here."
While it's too early to say exactly what brings Malcolm back to town (that'll come in Part 2 of our InSESSION interview with Moore), something we know that's NOT going to happen is Malcolm sinking his teeth into Neil's wife, Hilary! "That would be interesting if I just came and took another one," the actor jokes of Malcolm and Neil's past of both being with the same women — Drucilla (Victoria Rowell), Alex (Alexia Robinson), Sofia (Julia Pace Mitchell) and Olivia (Tonya Lee Williams).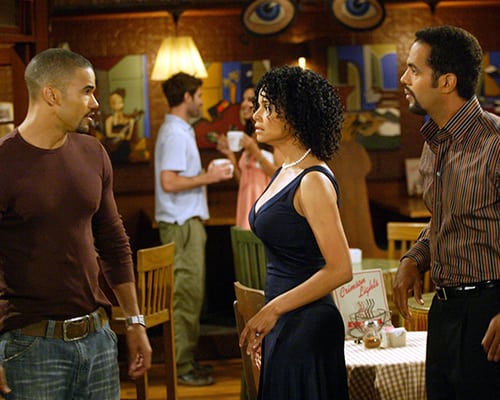 It's a soap opera, so you never know. And Moore didn't, either, having only caught a few scenes here and there since departing the show in 2005. "I had no idea who Moses was!" he says as an example of what he's missed. "But when I sit in the hair and makeup chair at 'Criminal Minds,' my makeup artist, Dane Johnson, loves 'The Young and the Restless,' so if it's the right hour of the day and I'm sitting in the chair getting made up to go play tough guy FBI guy, I see [St. John] and Joshua Morrow [Nicholas Newman] and Christel Khalil, so I keep up with my friends and family and see them doing their thing. But as far as storyline, I had no idea! I know what I did as Malcolm, but I have no idea what Malcolm did after me. But now that I'm back, we were able to incorporate some of what Malcolm had done since I've been gone. You know, I just had to get familiar and do some homework on who these names were."
READ ALSO: DETAILS: 'Y&R's' Kristoff St. John On Neil Losing His Sight, Shemar Moore Returning, and the Decimation of the Winters Family!
But massive story strides wasn't the only thing the actor had to get used to: The memorization and pace of daytime was a shock to his system, as well! "People at 'Criminal Minds' are like, 'How do you memorize all this material?!' and I'm like, 'What do you mean? We're doing like seven to 10 pages a day. [At] 'The Young and the Restless,' you're doing anywhere from 15 to 45 pages a day.' But what's different this time around is they go way faster than when I was here," he says. "We used to ask for second or third or fourth tries, and [now], there isn't. Once you rehearse… it's move on, move on, move on. That's a lot of pressure! It's great training, but it's spooky. I'm going to love going to ['Criminal Minds'] tomorrow and doing my set pages and my six lines that I get to do 48 times each!"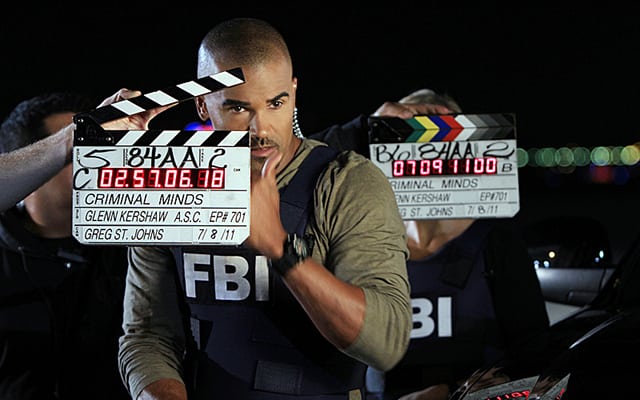 Speaking of his day job, Moore credits "Y&R" for giving him a leg up in the acting world, which led to his current success. "Back when I first got onto the show, back in 1994, it took me a couple of years to get my bearings and to get my voice and to get my breath and get my confidence and all of that," he explains. "Kristoff was a big part of that, and I told him today, I will always be grateful for how he embraced me — and he didn't have to — and helped lead the way so I could find my way. So that's why this is home. It will always be a family with those guys. It truly was a treat [to be back]. This wasn't about money, this wasn't about favors, this was, they asked me, and of course, I'll come back and play."
For additional information from Moore — including why Malcolm is returning to Genoa City, what viewers can expect when he appears on Wednesday, September 10 and Thursday, September 11, and some delicious teases regarding "Criminal Minds" — stay tuned for part 2 of Soap Opera Network's InSESSION with the actor!