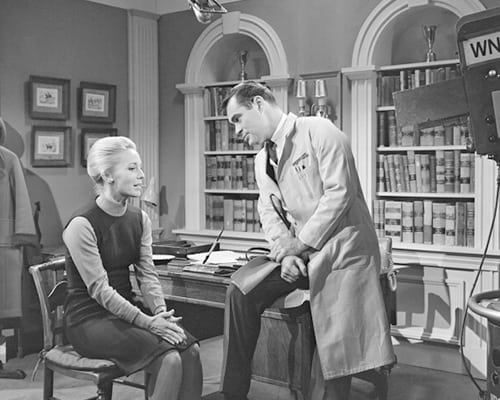 Retro TV has announced that its finally set a debut date for reruns of the classic soap opera, "The Doctors." According to an official press release sent out today, the sudser will join the network's afternoon lineup starting Monday, September 29!
The Emmy-winning series will air twice a day every weekday, with back-to-back episodes beginning at 12PM E/P. Says Emily Bronze, Luken's Director of Affiliate Relations: "The positive feedback we've received since Retro TV's initial announcement of 'The Doctors' has been phenomenal. Classic soap fans are excited about Retro TV and we look forward to expanding our offerings with this genre and audience."
Set in Hope Memorial Hospital in the fictional New England city of Madison, "The Doctors'" storylines center on the hospital's Chief of Staff Dr. Matthew Powers (James Pritchett) and his dedicated team. The soap opera ran for 19 years, spanned 5,280 episodes and won several Daytime Emmy Awards including Outstanding Drama Series (1971, 1972 and 1974), Lead Actor (James Pritchett, 1978) and Lead Actress (Elizabeth Hubbard, 1974). It also starred some other familiar names, including Academy Award nominee Alec Baldwin ("30 Rock"), Academy Award Winner Kathy Bates ("Misery;" ex-Belle Bodelle, "All My Children"), Academy Award Winner Ellen Burstyn ("The Exorcist"), Emmy Award Winner Ted Danson ("Cheers"), Emmy Award Winner Terry O'Quinn ("Lost"), Brooke Shields ("Suddenly Susan"), Acaademy Award nominee Kathleen Turner ("Peggy Sue Got Married"), Kim Zimmer (ex-Reva Shayne, "Guiding Light") and Hillary B. Smith (ex-Nora Buchanan, "One Life to Live").
To find out where Retro TV airs in your area, click here.