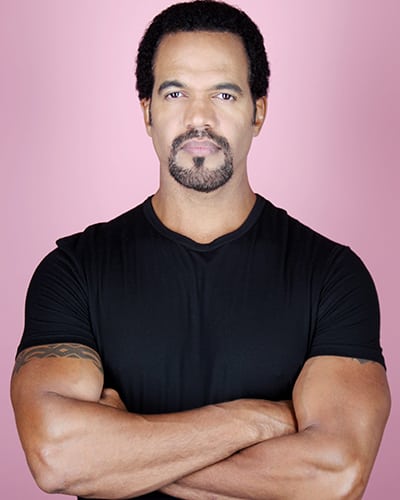 They say home is where the heart is, and it's a saying that members of "The Young and the Restless'" Winters family take literally. Not only have brothers Neil (Kristoff St. John) and Malcolm (Shemar Moore) shared Drucilla (Victoria Rowell), Alex (Alexia Robinson), Sofia (Julia Pace Mitchell) and Olivia (Tonya Lee Williams) in some way or another, Neil's adopted son, Devon (Bryton James), has followed in the family tradition: He and Neil's wife, Hilary (Mishael Morgan), are secretly in love with each other! Add into the mix Neil's recent blindness, his past with alcoholism and a flash return visit by his brother, Malcolm, and you've got one heck of a mess that's sure to make "Y&R's" Fall Sweeps a can't-miss event! Soap Opera Network met up with St. John to get the scoop on the juicy drama ahead, and he reveals that what you're seeing now is just the tip of the iceberg!
You'd think that after 23 of being on a soap opera, not much could surprise St. John. But funny enough, he was thrown for a bit of a loop when he first heard that the powers that be planned for his alter ego to lose his eyesight. "My first reaction or impulse was to deny and be in denial about it, because as much as I want good story, I thought at first that this was from the files of soap opera cliché #509," he admits. "It seemed to be a real curve that I wasn't prepared for. It was such a surprise, and honestly, I was a bit fearful as an actor to undertake such a challenging impairment, to be blind and to actually have sight. I remember years ago seeing Al Pacino in 'Scent of a Woman' and being floored by his portrayal. And so honestly, there were some reservations at first… I was very fearful of falling on my face with this, of not being able to bring that very challenging physicality and emotional state of being to the small screen."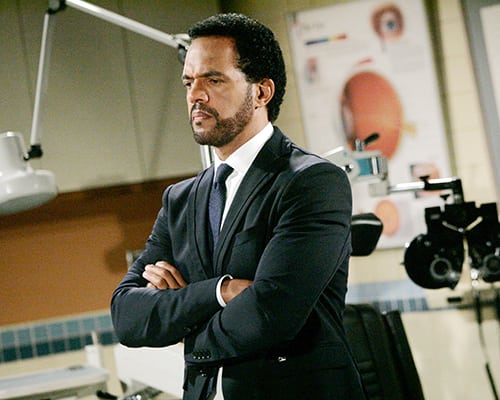 His initial fears turned out to be fleeting, and he's since jumped fully on board with the story and the challenge of flexing his acting muscles in a new way. "A myriad of emotions occurred in a very short period of time, from self doubt to fear… but after the very first day, I was a lot more comfortable," he shares. "Doesn't mean that the job became any easier, but after the virgin scene of Neil realizing that he is now blind and trying my best to believe the emotional side of it was a trick: If I believe it, then you're probably going to believe it, as well."
In fact, his reservations quickly turned to excitement, once he realized what the writers had in mind — from the Neil/Devon/Hilary triangle fallout, to a return visit by Neil's brother, Malcolm, played by "Criminal Minds" star Shemar Moore. "We had so much fun way back when; it was like school kids, like high school. And then, when you don't have that, you miss it. I didn't realize how good it was until it wasn't there anymore!" St. John says of mising his former co-star, who will be returning for two episodes on Wednesday, September 10 and Thursday, September 11.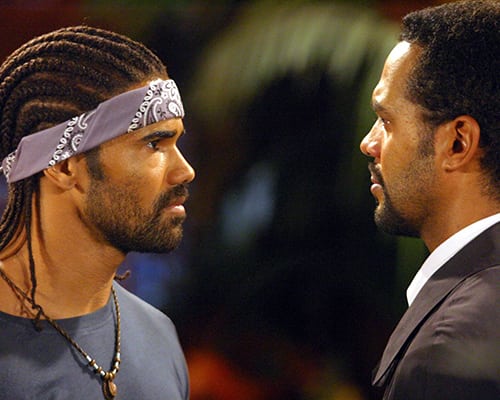 As for the upcoming story involving Hilary and Devon, the actor can't wait to sink his teeth into the meaty material ahead. "I don't want to give anything away other than I think Neil's drinking issue would only compound or exacerbate an already difficult situation," he teases, adding that there are many layers in the complicated situation. "First of all, Neil's love for Devon is very deep. Just because he has adopted Devon and he's not a blood relative or son, doesn't mean Neil doesn't treat him like one. Devon is at the top of the list of people, of family, in his life. Mind you, Neil lost Drucilla, his soul mate, years ago. Neil has been floundering, having lost not only his beloved wife, but also his relationship with his brother. And so Devon is really the anchor, as well as Lily… But definitely, Neil is closer at this point with Devon than he to anyone, and that should show what's happening between Neil and Devon in these episodes presently and what's coming up."