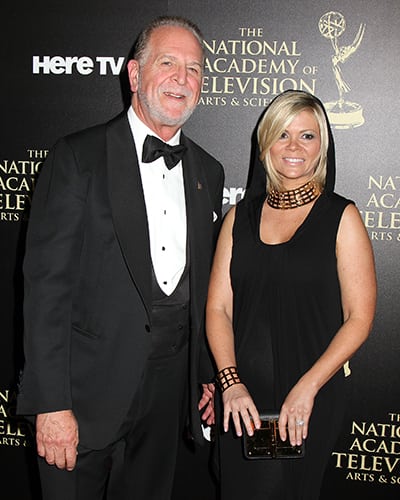 With "One Life to Live" up for Outstanding Drama Series during the 41st Annual Daytime Emmy Awards, it was no surprise to see Prospect Park founder Richard Frank and his wife, "All My Children" and "One Life to Live's" "More" show host Leslie Miller, on the red carpet.
Soap Opera Network: Wow, cool outfit, Leslie. Is that a hood?
Leslie: Yes. I'm stepping out of my comfort zone tonight.
Who's the designer?
Leslie: It's Balenciaga.
You're both here representing "AMC" and "OLTL." It must feel spectacular to know they got all of these nominations!
Rich: It's beyond belief, having started and fought for a couple of years to get them up and going and to have people recognize how hard a lot of people worked to make it happen. It's great.
They took home quite a few awards at the Creative Emmys, which was wonderful.
Rich: We took home five, yes.
Was that surprising to you, or was it a no-brainer?
Rich: It was well-deserved, but totally surprising, because being online, we were like the outsiders, and to have people recognize that the work was just as good was really rewarding to the people that did it.
Have you noticed other positive support from network heads, etc?
Rich: Yes is the answer, but also, we see it with the primetime Emmys, where you have Netlfix and Hulu. It's starting to move in that direction, the same way years ago it moved from broadcast to include cable. It's just one more step, and it's going to be production done everywhere, which is great for the industry.
Clearly you have your favorites, but but is there anyone else you're rooting for or who you think deserves an Emmy tonight?
Leslie: I'm a big fan of "The Bold and the Beautiful," and also of "The Young and the Restless." I watched those shows for years. Obviously, I want to see "OLTL" win, but if they don't, then I'll be happy if one of the others wins.
What a great moment if "OLTL" won, right?
Rich: Yes, it would! It would be really fantastic.
Leslie: It would be a very late night, let's put it that way!
Is there anything else you'd like to add?
Leslie: It sounds so cliché to say, but it's really great to be nominated. But in this case, and knowing what the shows have gone through, it really is great to have "One Life to Live" nominated.