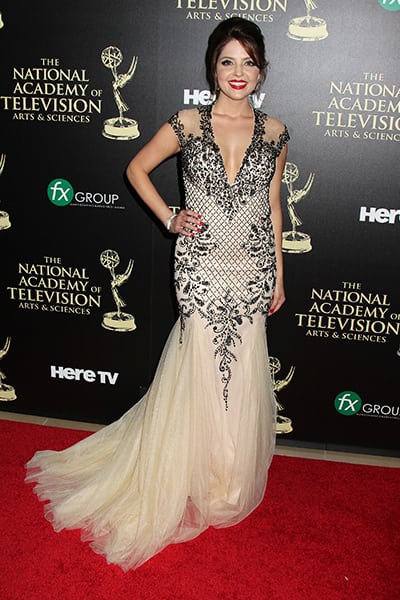 "Days of our Lives'" Jen Lilley (Theresa Donovan) always stuns on the red carpet, but she was especially beautiful at the 41st Annual Daytime Emmy Awards.
Soap Opera Network: You look stunning!
Lilley: Thank you. It takes a village, you know.
With you, I doubt it! Who's the designer of your dress?
The designer of the gown in Mac Duggal and my jewelry is by Charlie Lapson, and then my bag was my grandmother's, so it's vintage and sentimental.
How nice! Is that a good luck charm for your show?
Sure, I hope so!
What made you choose this dress?
You know, until today, I had no idea which dress I was going to wear. I was working with Greg LaVoy, and I'll be wearing his dresses to some upcoming award shows, but I always love timeless with a twist. I love the very classic Audrey Hepburn, Marilyn Monroe, Grace Kelly type looks.
Can you walk me through your day today?
I've had the best morning. It's been so stress free. I was watching "Orange is the New Black" until 4:00 am, and then I went to sleep, got up at 11:00, did a couple of chores around the house, washed my hair, shaved my legs and I went to the studio and they made me look like a human. It was great.