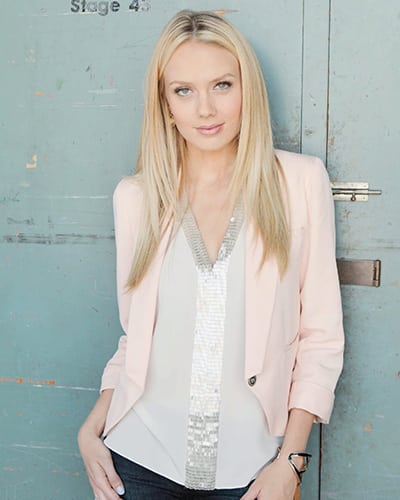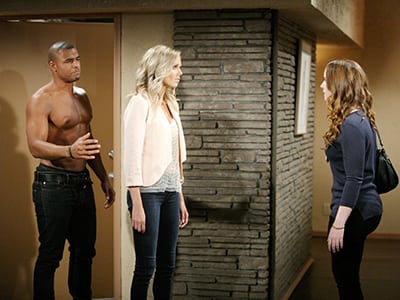 Since Melissa Ordway joined "The Young and the Restless" as Abby Newman just over a year ago, she hasn't had much exciting story to sink her teeth into — until now! The drama between Abby, Tyler (Redaric Williams) and Mariah (Camryn Grimes) is about to explode, and Soap Opera Network caught up with Ordway to get the juicy details!
Abby's road ahead isn't exactly looking super smooth these days, and the bumpy journey came just in time. Viewers of the show were getting impatient with "happy" Abby, and it seems Ordway was feeling it, too! "In the beginning for Tyler and Abby, everything was really, really happy, and I think it was probably a little bit frustrating, because even though Mariah was written for awhile, you didn't ever see her… so it's cool, because you're about to see some really juicy stuff. There's definitely some trouble for Abby and Tyler coming up, and it's nice to finally have some real drama."
Fan comments suggest that most viewers were blown away by the reveal that Tyler's ex, Mariah, happened to be the Cassie look-alike that Abby's dad, Victor (Eric Braeden), hired to torment Sharon (Sharon Case). And Ordway was equally caught off guard by the reveal. "I did not see that coming at all!" she says with a laugh. "I actually had a lot of things running through my mind about what I thought it was going to be, like, 'Oh my gosh, maybe Victor is paying someone because he doesn't like Tyler.' I was trying to figure it out, because there was a rumor going around that it was going to be really shocking and exciting, but I didn't know what it was going to be. So when I found out it was her, I was surprised. It's such a cool twist. And Camryn is so great. It's so cool to have her back on the show."
Camryn may be great, but Mariah? Not so much. In fact, the actress teases that the new character may be one people are going to love to hate. "Mariah is going to cause a lot of trouble — and not only for Abby and Tyler. She's up to no good with Sharon and Nick as well, and so I think she'll bring a lot of drama to GC," she says, adding that Abby should be particularly worried. "In an episode that recently aired, Abby starts to sense that there's some feelings between Tyler and Mariah that are unresolved, and so I definitely think that's going to be explored, and I think she's going to try and take Tyler away from Abby for sure."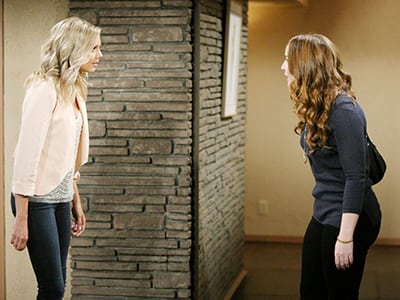 But no worries, Abby and Tyler fans: Ordway says her alter ego is becoming a force to be reckoned with! "Abby is not going to go down without a fight," she states. "Abby is going to do whatever it takes to get Mariah out of town or to put in Mariah in jail, whatever she needs to do. And I definitely don't think that she's going to be afraid to use Victor to try and help her, because she does have the Newman last name. So there's definitely some feistiness to Abby, which I think will be fun to get to play, because Abby has been so happy for so long, I think it's going to be cool to get to have some snarky moments and get into some trouble."
And, as viewers already know, there will definitely be trouble where Victor is involved! But why would Abby turn to him for help against Mariah when he is the very person who brought the troublemaker to town? "There's definitely a level of pain [regarding Victor's actions], but I think ultimately, she'll do whatever it takes to get what she wants, and she wants Tyler, and she also wants Mariah gone, so she'll do whatever it takes to get Victor on her side" Ordway explains of the story direction. "She does love her dad — and it's not like she doesn't know that her dad gets into trouble sometimes; he doesn't have the best reputation. But she definitely uses the, 'I'm daddy's little girl, and look what you did, I'm so upset by it, but if you do this, then maybe I'll be ok with you again.' She's using it to her advantage."
Which, as a Newman, she has a right to do. "[Having Victor as a father] makes Abby unstoppable," the actress says. "She's not afraid to really go for it, because she knows she has her dad to back her up if she gets in too much trouble. She can always call on him. That's why I think Mariah should be a little bit more scared!"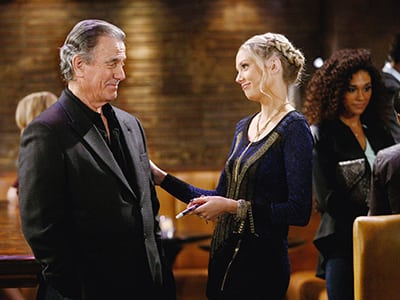 Speaking of being scared, does Ordway ever get nervous to work with Braeden, who's a soap opera legend? "Sometime I do, because I'm like, 'Oh my gosh, that's Eric Braeden!'" she says with a laugh. "I used to get a little nervous and intimidated, but he's so nice and he's so much fun to work with. I feel like every time I work with him, I learn more. Just watching him and the way that he does stuff and the way he completely becomes Victor Newman in his scenes is really cool. It's always a good day when I get to work with Eric."
And she feels the same about working with Williams. "We know each other really well, so it's fun to get to work with each other and run lines a lot," she says. "He's such a nice person. I think he's one of the nicest people ever. He cares about the scenes, he's a hard worker, and he wants to do the best that he can. He wants to make each scene the best that it can be, so I really enjoy working with him. He's awesome."
In fact, Ordway thinks everything about "Y&R" is pretty awesome; she did grow up watching the sudser, after all. And she was ecstatic when the opportunity to be a part of Genoa City came about. "I actually worked with Jill [Farren Phelps, our executive producer] on the show "Hollywood Heights," and when Emme [Rylan, Lulu Spencer, "General Hospital"] decided to leave the role, my manger called me and she was like, 'They're wondering if you would be interested in this role on 'The Young and the Restless,'' and immediately I said yes," she recalls. "I was like, 'I'm definitely 100 percent interested. I have always wanted to do a soap opera, because I grew up watching them and my parents watch it every day. There's no better way for my mom to see me every day than to do a soap opera.' And so I said yes immediately, and we talked, and I met everybody and it ended up working out."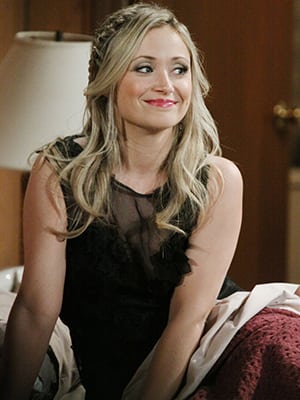 Of course, the first person she had to call was her mom, who didn't initially believe her daughter had landed the role of Abby! "I called my mom, and I said, 'Oh my gosh, mom, I'm going to be playing Abby Newman on 'The Young and the Restless!'' And her first question was, 'What? There's already someone that plays that role. Are you sure?'" she says with a laugh. "And I was like, 'Yes, I think so, that's what they told me.'"
Shortly after landing the job, Ordway invited her family to the CBS set and was so happy to see her new co-stars treat them so well. "Peter Bergman [Jack Abbott] was so sweet; he took the time to really take pictures with everyone in my family, and so did Josh [Morrow, Nicholas Newman]," she shares. "Those two guys are my mom's favorites, so she was extremely excited about it. They really took the time to talk to my family and get to know them, which meant so much to them. It was awesome."
Ordway's mom loves "Y&R" so much, that sometimes the actress can't even get her attention if the show is on! "When I try to have a conversation with her sometimes, she's like, 'Oh, I'm watching 'The Young and the Restless' right now. I can't talk,'" she says with a laugh.
And considering the exciting drama that's ahead for Abby, it may get even tougher for Ordway to grab her mom's attention! "Things onscreen are going to get very interesting," the actress teases. "I can't wait for the audience to see it all play out."