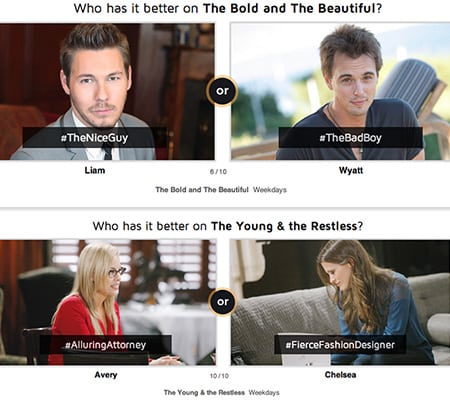 In CBS' newest comedy hit, "Friends with Better Lives," a group of friends who are either married, divorced, newly engaged or single, secretly question who has it better? With that in mind, on its official website for the series, CBS asks fans to answer that very question in relation to several of its popular series and its characters, including "The Young and the Restless" and "The Bold and the Beautiful."
On "B&B," the site asks who has it better between brothers Liam Spencer (aka: #TheNiceGuy; Scott Clifton) and Wyatt Fuller (aka: #TheBadBoy; Darin Brooks).
"Y&R" Chelsea pits Avery Bailey Clark (aka: #AlluringAttorney; Jessica Collins) against Chelsea Lawson Newman (aka: #FierceFashionDesigner; Melissa Claire Egan).
As of this writing, 59% believe Liam has it better than Wyatt, who has 41% of votes. 58% believe Chelsea has it better than Avery's 42%. To take part in the vote, click here.
"Friends with Better Lives" airs Mondays at 8:30 PM ET/PT on CBS.