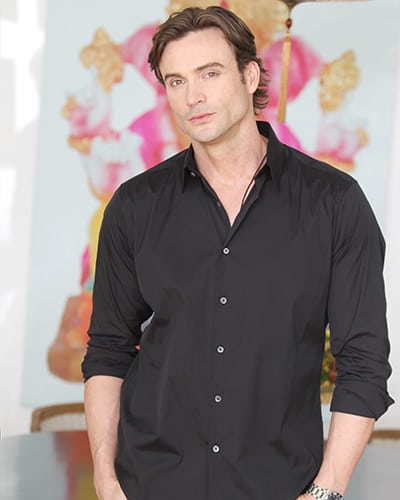 They say a happy couple never lasts long on soaps, and yet "The Young and the Restless'" Cane (Daniel Goddard) and Lily (Christel Khalil) have endured for over half a decade. The pair hasn't exactly been happy the entire seven years, but the two seem to share a love and strength within their relationship that is rarely seen in the soap opera genre. However, the saying "all good things must come to an end" is something that always lurks in the background, and some viewers can't help but question just how much staying power Cane and Lily have left — especially with Cane's dastardly father, Colin (Tristan Rogers), trying to worm his way back into the picture! But just what's going to happen from here? Soap Opera Network caught up with Goddard himself to find out!
Love in the afternoon is a former slogan for daytime dramas, and there's a reason why: Matters of the heart usually take center stage. However, there's a lot of bed hopping involved in the romantic aspect of soaps, a phenomenon that has yet to destroy Cane and Lily's relationship. "Nick [Joshua Morrow] will leave Sharon [Sharon Case] and sleep with Phyllis [Michelle Stafford] and then leave Phyllis and sleep with Avery [Jessica Collins] and then go back to Sharon, or Neil [Kristoff St. John] will be in a relationship that falls apart and will end up with another lady, another lady, another lady," the actor explains of "Y&R" in particular. "You see it happen, and I think the writers and producers recognize that there are no other couples like Cane and Lily on the show, and they keep it strong for that reason."
Some would argue that having a couple stay together through thick and thin potentially limits the characters storyline wise, and though Goddard admits that that may be the case with Cane and Lily, he says the couple's unique situation may also challenge the writers into thinking a little outside of the box. "I think you could say from a story point of view that [the fact that they stay together and haven't cheated on one another] may limit a certain amount of drama, however, I think that they writers have managed to find drama outside of the couple, like with Cane and Victor [Eric Braeden], or recently Lily and the fashion show, or even Hilary [Mishael Morgan]," he explains. "They're looking for drama in other ways. So I think it has a lot of benefits, what the writers have been doing, thinking creatively… Because it's easy to write for Billy Abbott [David Tom]. 'Oh, well, he's gonna start gambling again this week. Oh, he's losing everything. Oh, he's drunk. Oh, he was drunk and he slept with someone else. Oh, he wishes that he didn't do it, and now he's got to deal with the fall out. He says I'm sorry, and he gets forgiven.' Technically, it's easy to write for a character like that… [and] going back to Cane and Lily, I think you're going to find it difficult to come up with story to break them up. I don't know, I think organically, the characters kind of play themselves. And we'll see what happens moving forward with the story with Colin and Jill [Jess Walton] and if Cane leaves and goes back to Chancellor and see how the relationship fares, because I think that's where the beauty of their relationship lies. That you can look at that and say, 'Ok, where would that naturally, organically go?'"
If anything is outside of the box writing wise, it's definitely Cane's dad, Colin — who happens to be the next major challenge Cane and Lily will face. "Lily is very cautious about allowing him back in their lives, and so is Cane, because last time we saw him, he tried to kidnap [their twins]," Goddard reminds. "Colin says he's changed, but Cane is wary. Though, it would be very important to him [if he has changed] because his mother is out of the picture, his brother is dead, his sister is dead, and really, that's all that is left of Cane's family, is just his relationship with his father. So I think to have his father in his life and to have his father trying to make the changes so that he can be a part of his life and the twins' lives, it's important to Cane. Which is another reason why he holds Lily in such high esteem, because she represents the family and stability that he never had in Australia. So I think Cane hopes very much that Colin has changed."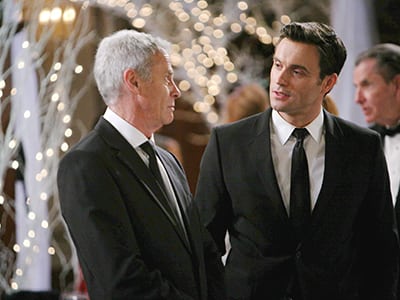 And Goddard himself hopes that Colin has changed, as well, if it means longevity for the character! "When Tristan came on the show a few years back, it completed a lot of Cane, and I think now he's come back, and it's what Cane needed," he explains. "Cane needed his own family, because it's a different dynamic. Everybody else seems to have a history of their own and their own family, and I don't think you really know everything there is to know about a character until you meet the parents. Because you meet the parents, and all of a sudden, you see the traits and you see the characteristics that one person has, and you go, 'Oh, that makes sense! I see it, where that comes from now.'"
While the actor is hoping that Colin's presence will shed more light on how Cane came to be who he is, he's simultaneously hoping that his alter ego's recent business with Victor will shed more light on who Cane can become. "I think it would be interesting now, which they seem to be doing, to allow Cane to pursue whatever it is that he wants," he explains, adding that the character's relationships with both Victor and Colin may be able to achieve that. "I don't think Cane is intimated by Victor, nor do I think he's intimidated by his father. Eric and I have a good relationship working with each other. We have a lot of respect for one another, and we play our scenes together where we both realize that there's no adversary. We don't want to be adversaries with each other. What we want to do is find a way to realize that Cane can enhance Victor, and Victor can enhance Cane, and they can be working for a common cause.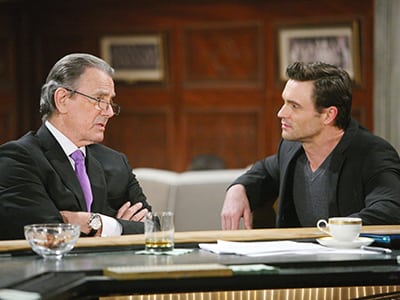 "Most of Victor's relationships in the past have always been 'I'll take you down because you were trying to take me down, and we'll see who does it first,'" he explains. "I think there's a different dynamic that they can play with Cane and Victor. It would be interesting down the road if Cane and Victor actually had a better relationship than Victor has with his own kids or that Cane has with Colin. I think that could create drama and dynamic between Victor and Colin and Cane and Colin. And I'm always looking for ways to try and create the drama, assuming that the writers haven't planned it out to the point where they have their own ideas without watching what we're doing as actors, because we're always trying to show them something that maybe they haven't thought of or maybe they haven't written yet, a story that has possibility. So we'll see how it goes. I'm really looking forward to it."