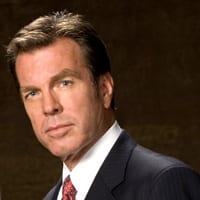 (SoapOperaNetwork.com) — "The Young and the Restless" Episode Recap – Wednesday, September 28, 2011.
IT HAPPENED TODAY…
Victor met up with Sam at Crimson Lights. Sam told him that Victoria sprained her ankle while at the stables. Victor was thankful that Sam was there and commented that he didn't want her to be alone. He did, however, make a comment about Billy. When he questioned Sam on whether she heard from Billy, Sam pretty much wanted nothing to do with being involved, telling Victor he'd have to ask her that question on his own.
At the house, Victoria was walking on crutches, when she spotted Keely sniffing at the closet door. Unaware that Billy was inside, she stood by it, wondering what the dog was sniffing at. Before she could open it, she wound up hurting her injured foot. She took a sit on the chair, rubbing Keely's fur, while Billy quietly peeked out to get a glimpse of his estranged wife.
At the police station, Ronan was frustrated that they couldn't locate the missing shoes Victor wore at the night of Diane's murder. He demanded that his team continue to look for them so he could get some evidence to prove that he was in fact there that night. Meanwhile, Abby, who was at the police station, left a message for Ashley, telling her that she was going to talk to Ronan, stressing that her mother wasn't a murderer. When she made her way for his office, she stopped dead in her tracks when a police officer came back to report that the manager from the Athletic Club called to report the lockbox that she had. Abby started to sweat when Ronan hurried his way out of his office to go to the club to retrieve the box. Abby immediately followed him.
Ashley and Tucker were having lunch together at Gloworm. She showed him the latest product that was making a dent in business. She expressed how the very product she created was doing so well, but she was not even a part of Jabot anymore. She wanted back in the minute Tucker worked his best to get the company back. She asked on how he'd feel in putting her back as CEO of Jabot once he got the company back. Tucker was hesitant to answer, remembering the deal that he already made with Jack. Ashley said that she felt that Jack and she could work side by side again as co-CEOs. Before she could convince Tucker on the idea, he told her he had an important meeting to get to, and headed out.
After getting off of the phone with Tucker to meet up, Jack's conscience, John Abbott, appeared. Jack instantly guessed that he was going to lecture him for wanting to take Jabot away from Katherine. He listed all of the reasons why he wanted Jabot back. He realized that he'd be jeopardizing a lifelong friendship with Katherine, but Jack was tired of the family company being used as a way for Tucker and Katherine to get back at each other. Jack was stunned when John didn't disagree with what he wanted to do; telling his son not to do things half-assed. When Jack turned his back, still talking to his father, the ghost of John soon disappeared. Jack silently thanked his father.
Sam showed up at Victoria's house. When he walked in, he started gushing over Keely. Billy, however, misunderstood the affections, thinking that Sam was referring to Victoria. Sam continued to gush over Keely, who soon left him to go back to sniff out Billy. The dog soon sat looking at Billy, who was hiding out in the hallway of the house. Sam asked on how Victoria was feeling, and she hinted at how her injure was keeping her from being able to get things; including a mere soda. Sam took the hint and told her that he'd get her a soda. They soon heard a noise, which Sam went to inspect. When Sam was gone, Billy was able to quickly exit the house.
Neil and Katherine were at her home conducting a business meeting. Devon showed up unannounced, excited about finding a possible building. When he proposed his idea, both Katherine and Neil gave their concerns about buying a building so soon. Devon was initially frustrated, thinking that Neil was shooting down his idea because of his past concerns. After Katherine suggested that Devon talk to her legal team and come back with a proposal, she'd give it more thought. She left to take a phone call, leaving Devon and Neil alone. Devon apologized to his father for thinking that he didn't have his best interest at heart. Neil accepted and told Devon he did believe in him.
Ashley was furious that Abby once again decided to take matters into her own hands. She voiced it with Victor, who told Ashley he warned Abby to stay away from Ronan. After Ashley left, Victor called his daughter, lecturing her on getting mixed up with Ronan; telling her to leave it to him. Abby saw Ronan leaving the club with the lock box. She quickly shared what she discovered with Victor, who again told her to not get roped into what was going on. When they ended their conversation, Abby was on her way out, when Ronan approached her, questioning why she was so curious about what was in the lock box. He took her with him to the police station.
Billy vented his frustrations to the ghost of John Abbott. He shared how he saw Victoria moving on with someone else. He regretted making that deal with Victor in order to save Delia. John told Billy that he made his decision because he was doing what was best for his daughter. John pointed out that he needed to let go of his past with Victoria, or he would only keep himself miserable. Meanwhile, Victoria wrote another email to Billy.
Tucker and Jack met up in his office. Tucker told Jack that once he got his testimony against Katherine, he would make Jack sole controller of all of Jabot's operations. Jack, however, said that it wasn't good enough. He wanted Tucker to give him Jabot the minute the company was back in his hands. Tucker was upset that he was going back on their original agreement, but Jack wasn't budging, pointing out that if he didn't agree, he wouldn't testify. Tucker relented and agreed to what Jack wanted. Ashley soon arrived and questioned if Tucker's meeting was with Jack. When she questioned what they were up to, both men lied to her. Turning to Tucker, Ashley pointed out a past conversation they had: both of them not keeping things from one another. Meanwhile, back at Katherine's, Neil and Devon were concerned when she shared that she received a phone call from her lawyer. He told her that Tucker was suing her for Jabot.
At the police station, with Abby present, Ronan had the lock box opened. Inside was a journal that Diane was keeping. Ronan told Abby to stay put until he came back. Abby told him that he could talk to her lawyer and walked out. Going to the board of suspects, Ronan wondered what Diane had over Abby. Minutes later, a cop came into Ronan's office with the shoes Victor wore on the night of Diane's murder.
On the Next The Young and the Restless…
Tucker has a confession for Ashley
Neil questions Sofia's integrity
Victor continues to taunt Adam