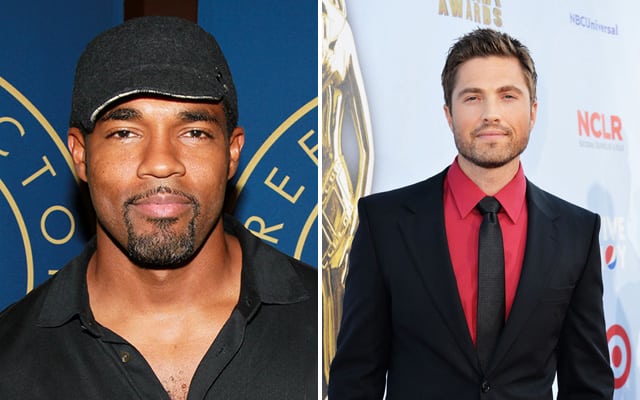 "Witches of East End," which was inspired by Melissa de la Cruz's best-selling novel, has a launch date! Lifetime announced today that the new witching hour of drama is coming to a TV screen near you beginning Sunday, October 6 at 10:00 PM ET/PT. The series stars Julia Ormond (Temple Grandin, Mad Men), Mädchen Amick ("Mad Men," "Damages"), Jenna Dewan Tatum ("American Horror Story") and Rachel Boston ("In Plain Sight") as a family of witches living in the secluded seaside town of East Haven. The new series also stars Eric Winter ("The Mentalist," "Days of our Lives"), Daniel DiTomasso (CSI), Jason George ("Grey's Anatomy," "Sunset Beach") and Oscar and Golden Globe Award nominee Virginia Madsen ("Sideways," "Anna Nicole").
"East End" follows  Joanna Beauchamp (Ormond) and her adult daughters, wild-child bartender Freya (Dewan Tatum) and shy librarian Ingrid (Boston), both of whom are unaware that they are their family's next generation of witches. "Freya is recently engaged to the man of her dreams, wealthy playboy Dash Gardiner (Winter), but when she finds herself inexplicably drawn to Dash's troubled, enigmatic brother Killian (DiTomasso), bizarre occurrences begin to manifest in her life.  Meanwhile, Joanna's long-estranged sister Wendy (Amick) shows up with a warning that could change the Beauchamps' fate forever, forcing Joanna to reveal to her daughters they are, indeed, immortal witches who possess great untapped powers.  With their idyllic small town life now turned upside down, and a formidable and ancient enemy intent on ending the Beauchamp family line, will Freya and Ingrid be able to accept their true potential before it is too late?" reads the full Lifetime description of the new series, which is being produced by Fox 21 with Maggie Friedman (Eastwick), Jonathan Kaplan (Without a Trace, ER), Erwin Stoff  (The Matrix) and Josh Reims (Brothers & Sisters) signed on as executive producers.
Kaplan will also serve as the producing director on the series.  The pilot was directed by Mark Waters (Mean Girls) and written by Friedman.